On a hot and steamy April morning in 1967, Singapore's founding father Lee Kuan Yew cruised Phnom Penh's wide, leafy boulevards in a convertible Mercedes. His chaperone was Cambodia's late King Father Norodom Sihanouk, at that time the country's head of state. The two young leaders drank in the scenes before them: buttercup yellow colonial villas and state buildings; the gilded spires of pagodas; and the minimalist, jagged lines of hundreds of bold new buildings designed as part of the 'new Khmer architecture' movement. Struck by what he saw, the Singaporean Prime Minister turned to his host and mused: "I hope, one day, my city will look like this."
The 'new Khmer' group of young architects had been commissioned by Sihanouk to lay out a brand new 'modern city' of grand, brutalist stadiums, sweeping university campuses, theatres and other remarkable civic spaces. They were spearheaded by Vann Molyvann who, in his role as Cambodia's head of public works and state architect, designed more than 100 modernist buildings in just 13 years, most of them in Phnom Penh.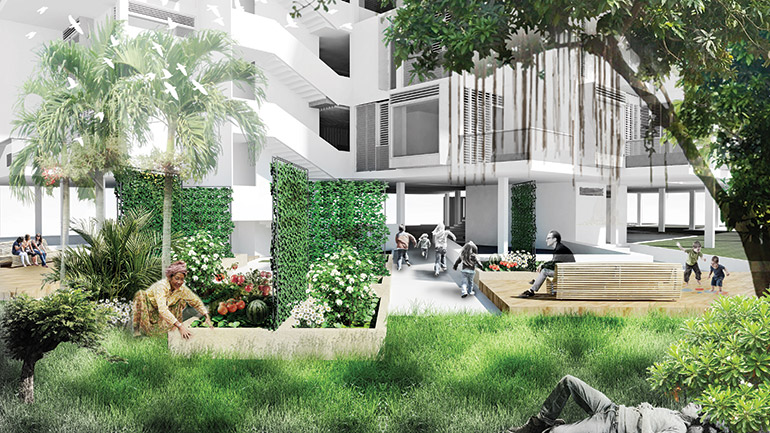 Molyvann and his peers also pioneered Cambodia's first attempt at public housing. Between 1953 and 1970, Phnom Penh's population tripled from 370,000 to a million, prompting the construction of the Bassac River Front, a complex made up of the White Building (three low-rent apartment blocks that tenants could lease for ten years and then own) and an Athletes' Village. A further development, dubbed the 100 Houses project, was built near the city's international airport.
Yet Lee Kuan Yew's words proved bittersweet, and Cambodia's first attempt at social housing was tragically short-lived. The capital was emptied of its people by the ultra-Maoist Khmer Rouge regime in 1975 and, just over 40 years later, Cambodia is now looking to Singapore as a model of exemplary urban planning and affordable housing.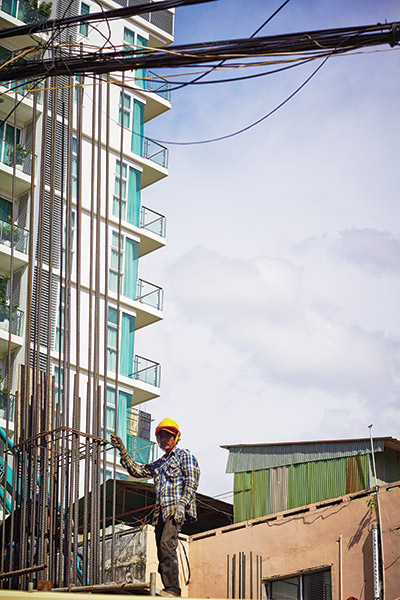 After struggling through a civil war that lasted decades, the past 20 years have brought rapid economic and structural development to Cambodia. Phnom Penh's skyline is now awash with cranes, half-built condominiums and towers swathed in green safety nets. Last year was a record year for construction, with a total of $8.5 billion worth of
projects approved by the government. With inflation hovering at 3.4%, and an annual GDP growth of 7%, investment continues to pour into Cambodia, where a growing middle class is emerging.
Despite such economic optimism, the United Nations Development Programme estimates that 13.5% of Cambodians still live below the poverty line. Income disparity between the urban rich and rural poor persists and, as a consequence, over the past five years Cambodia has witnessed a wave of rural-to-urban migration. In 2013, the Cambodia Intercensal Population Survey identified an estimated 24.5% of the national population as rural-urban migrants. Phnom Penh's population nearly doubled in the first decade of the 21st century to 1.5 million, according to the most recent census in 2012, yet adequate infrastructure and affordable housing are still desperately lacking.
According to the government's 2014 National Housing Policy, by 2030 Cambodia's population of 15.5 million will need an extra 1.1m houses to meet demand. Yet the Christian global housing charity Habitat for Humanity Cambodia (HFHC) projects the demand at almost ten times that figure. In a 2015 report, the organisation estimated that 9.8m homes are needed in Cambodia, that 20% of the population live in slums and that the housing deficit hovers at about 60%. And yet the value of property and land in Cambodia's commercial centres only continues to skyrocket.
Even though Phnom Penh appears to be facing an affordable housing crisis, a government-funded social housing system such as Molyvann's has not been seen again. Last October, the Ministry of Land Management, Urban Planning and Construction and HFHC signed an agreement supporting a National Public Housing Policy to address housing for low-income families, yet details remain vague and the government seems to be dragging its feet. When Southeast Asia Globe contacted Chea Sophara, the minister of land management, urban planning and construction, he declined an interview but said the policy would "very soon be released".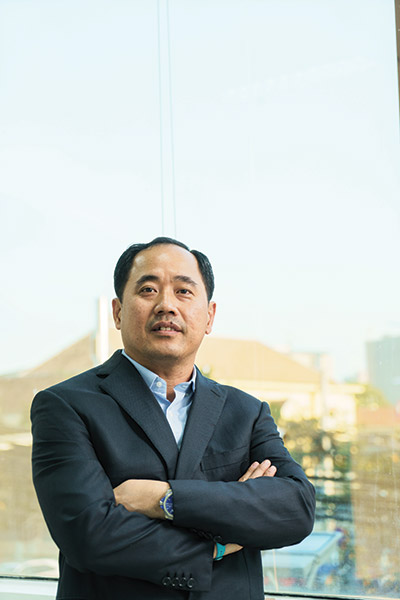 In the past year, however, several developers have stepped in with plans to change things. One such businessman is condominium tycoon Rithy Sear, who last month broke ground on a $100m low-income housing development on the city's southern fringes. In November, Sear's company WorldBridge Land, together with Singapore-based construction company Straits Construction Group, signed an MoU on affordable housing with the government. The development, consisting of 2,296 two-storey townhouses, is about 18km south of the capital in the city of Takhmao. There's also CamHomes, a real estate agency set up by Singaporean developer HLH Group, which in June unveiled plans for its D'Seaview mixed-development project in the coastal city of Sihanoukville. The project's 735 residential units will reportedly be geared toward lower- to middle-income earners. And near Boeung Trabek Plaza in Phnom Penh's Chamkarmon district, the proposed Sino Plaza – a luxury condo and retail development by Cambodia Natural Lucky Real Estate – will reportedly sell 10% of its units below the market rate using a "non-open market" ballot system. Open to families who earn less than $2,000 a month, entry into the ballot would need to be qualified by a family income statement and a pre-approved bank loan, the company stated in its self-published report on affordable housing.
Sear ambitiously expects his own project to be completed by the end of this year. The homes will cost $20,000-25,000 and are initially aimed at low-income civil servants such as soldiers, teachers and police but would also be opened up to "all families earning less than $500 a month", he told Southeast Asia Globe in his Phnom Penh head office, its walls studded with framed photographs of the property magnate shaking hands with various political figures and billionaires.
Sear is a slick operator and talks at rapid-fire pace, his words punctuated by relentless iPhone alerts. The Worldbridge chairman found early success in logistics and freight forwarding before expanding into property and e-commerce. His affordable housing investment, he said, is a passion project, inspired by a trip to Chiang Mai ten years ago where he learned more about then-President Thaksin Shinawatra's housing subsidies. "I'm a developer, so I know more than anyone how out of reach home [ownership] has become for many. It's just up and up here [in Cambodia], month by month. [Lower-income earners] have no chance. The more the country develops, the wider the gap between rich and poor."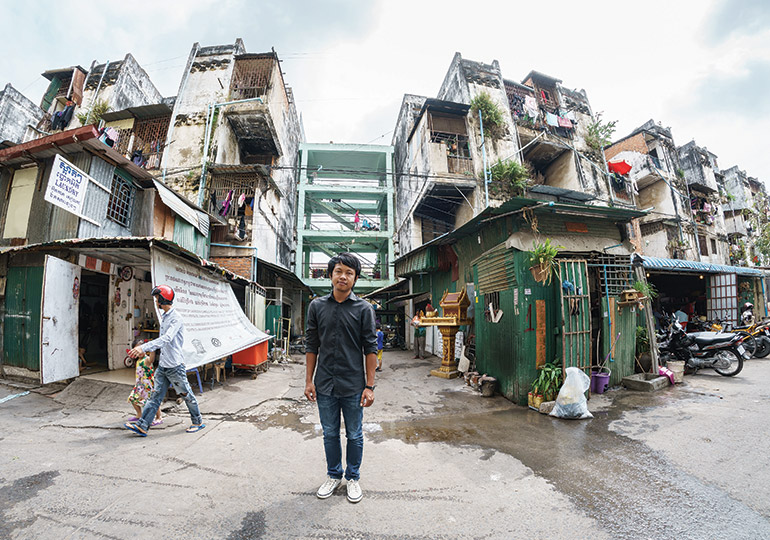 In late February, Worldbridge began filling in soil at the Takhmao site and opened a sales office. The vetting process for would-be buyers will be thorough, Sear said, with 20 criteria needing to be met to be considered. "I need to make sure the people who need this get it," he added. Buyers would own their unit freehold but would not be able to rent or sell it for a five-year period.
Sear said his affordable housing projects would become "satellite communities" with gardens, markets, schools and clinics, much like Singapore's Housing and Development Board (HDB) system developed by Lee Kuan Yew, which provides temporary 99-year leaseholds that more than 80% of Singaporeans live in. While Sear admires the city-state's public housing system, widely regarded as Asia's most successful, it is a model he believes cannot yet be replicated in Cambodia. "In Cambodian culture, ownership is king; they buy everything to pass on through the generations," he said.
Ho Kong Chong from the National University of Singapore's sociology department agrees that Singapore's system is unique, but for different reasons. "Within the Singaporean HDB owner's 90-odd year tenure, they can buy and sell the flat in the market, so actually it's a public housing system with market characteristics. The other point is that the government can take back these blocks for redevelopment and the owner is given preference to then buy into newer estates. For such a system to work there must be enough public housing units to move around, so I don't know if Cambodia could follow such a model."
Sear maintains his motivation for building affordable housing loops back into "branding and good CSR", but the big question is whether such projects can help spur a large-scale, government-funded social housing system.
"I would really like to see the government [pioneer] such a thing, but they have no money," Sear said. "In the future they may get to that stage and have land available for private developers to develop into public housing projects, but in this case I have invested completely in the land." He added that, at the very least, government assistance in building necessary infrastructure such as roads, water supply and sewage systems is critical to affordable housing projects. Further government subsidies, such as taxation relief on imported construction materials or free construction permits, could help keep unit prices low.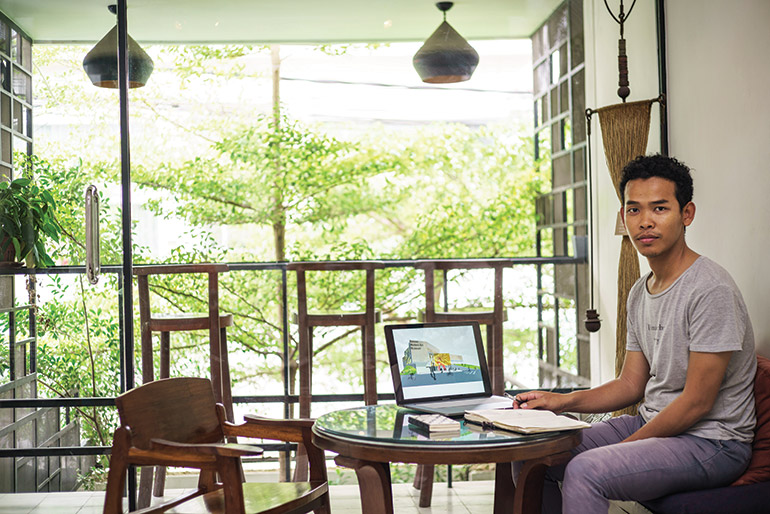 Worldbridge started approaching local and commercial banks for financial support for buyers, such as 8% interest rates and long-term repayment plans of 15-20 years. Sear said he was hopeful of partnering with a local bank but had so far been knocked back. "Frankly speaking, we need to support each other. I really hope they come to the table… but so far they're afraid they won't be able to get payment back from the buyers," he said. Cambodia's largest commercial bank, Acleda, expressed interest and in March was still working on terms and conditions.
However, Ross Wheble, country manager for independent real estate consultancy Knight Frank, warned that the onus should not fall on private banks to support affordable housing. "Interest rates in Cambodia are high, and the spread between fixed deposit rates and borrowing rates is significant. More competitive interest rates would benefit the whole industry and not just low-income borrowers, but this is a factor of market forces.
"Particularly for city centre projects, it is just not feasible for private developers to construct affordable housing unless there is some form of incentive," Wheble said, adding that the government's urban planning had lacked transparency.
"In addition to impacting the liveability of a city and the day-to-day lives of its population, [loosely regulated urban planning] also deters foreign investment," he said.
For young Cambodian architect Virak Roeun, the innovative designs of the 'new Khmer' '60s modernists were perfect examples of smart urban living. "Architecture is about how we live in a space. From most points in the Bassac buildings you could see and talk to your neighbours. In my new apartment now, the only time I see another person is in the lift," he said.
Pen Sereypagna, another young architect and the manager of the Vann Molyvann Project, believes Sear has chosen a clever location for his project, particularly as a new highway will soon be finished linking the city centre to the south. "It's interesting because in Molyvann's book, Khmer Cities, he proposed extending the city to the south due to where flood plains were positioned in the city. Overall, I think this project could be really great for Phnom Penh."
Sereypagna thinks the government's public housing policy should also consider restoring older buildings and assisting low-income communities in the city centre. "The government should implement projects that help these communities live more sustainably – teach them about waste management," he said. After years of uncertainty over the White Building's future, last year the government finally announced Japanese development company Arakawa would forge ahead with an $80m redevelopment of the famous slum building, with the 500 families living there being offered resettlement packages or apartments in the new complex upon completion in four years.
Chong, from the National University of Singapore, agrees that there are alternatives to building brand new social housing developments, particularly in developing countries. "Subsidising water and electricity, road works and drainage works are all things a government can do in poorer countries. Housing provision itself is a very expensive business – if you provide amenities to housing settlements that are already in place, you can actually improve conditions far more successfully… There is a whole spectrum of options to improve housing which doesn't have to follow the Singapore model."