Journalists are trained to keep themselves out of the story, but sometimes there's little choice in the matter.
On Monday morning, 13 February, reporters swarmed the nondescript offices of Voice of Democracy (VOD), an independent Cambodian outlet known for its work on matters of governance and corruption. However, none of the journalists showing up to the headquarters were actually publishing there.
Due to an abrupt Sunday night order from Prime Minister Hun Sen to cease all further operations, VOD had become the centre of a news cycle of its own.
"For now, we'll just stay quiet," said Ith Sothoeuth, the media director of the publication's parent organisation Cambodian Center for Independent Media (CCIM). "We hope it's not the end yet, so we'll try to work with our relevant stakeholders so a solution can be reached to continue the operation of VOD, to bring news to the Cambodian people."
The prime minister's campaign has centred on a VOD Khmer-language article published on 9 February. The article reads as a fairly innocuous piece of bureaucracy reporting, albeit on a sensitive topic – the expected handover of power from Hun Sen to his oldest son, army commander Hun Manet, after nearly 40 years of rule.
Civil society groups had for months already reported increasing state repression ahead of July's national election, which is seen as a key moment in securing the transition from father to son. Now, what remains of Cambodia's dwindling independent media since former leading outlets Cambodia Daily and Phnom Penh Post were quashed amidst the political crackdown of 2017 sees the intense pressure on VOD as a chilling message in the lead-up to the polls.
Chhorn Chansy, editor-in-chief of outlet CamboJA News, was among the many Cambodian press corps members who went to the VOD office Monday to report on the closure while sharing condolences.
Chansy, who previously worked with the Daily, said his team at CamboJA is now carefully considering their own institutional survival.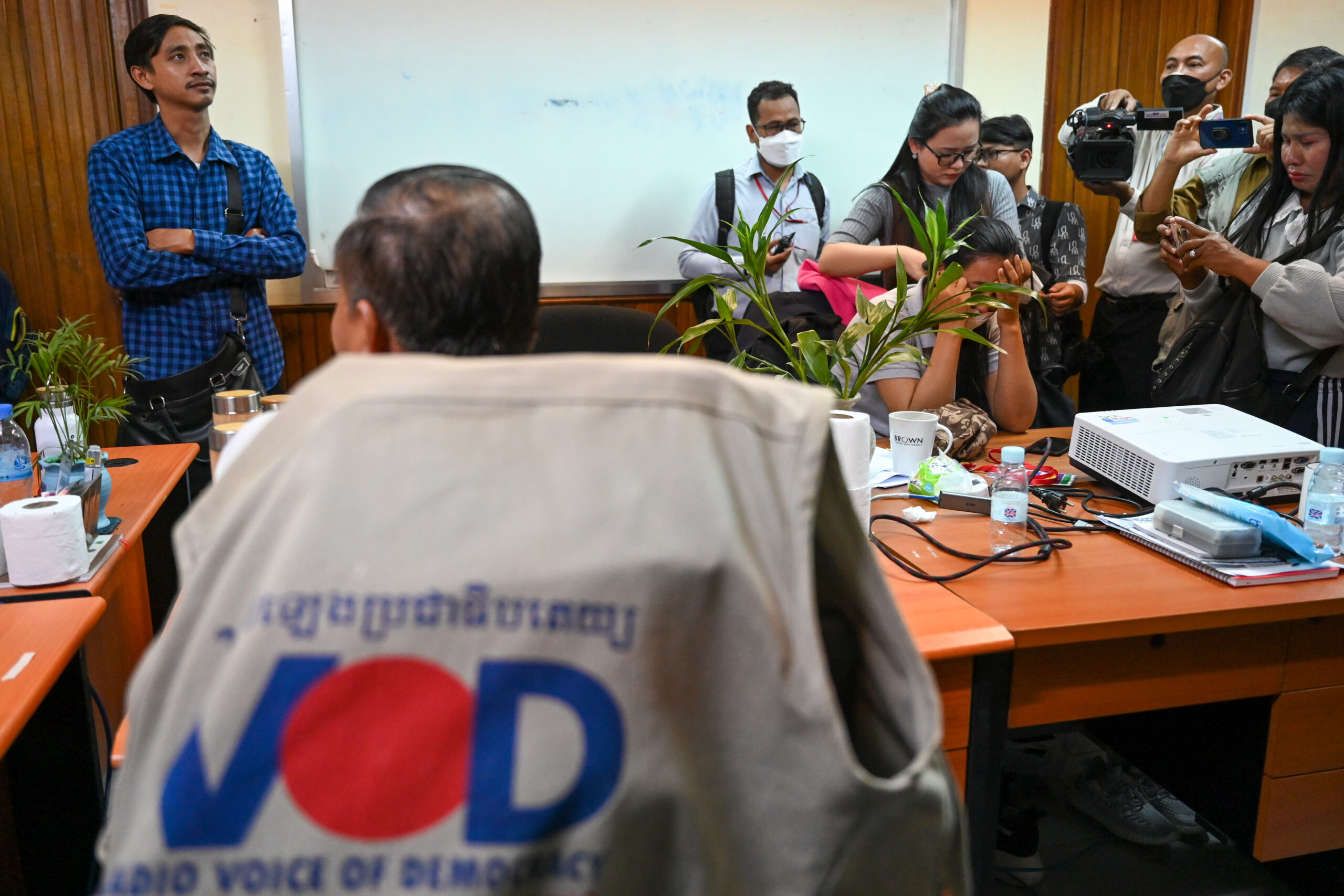 "It makes me concerned," said Chansy. "We're journalists, so when we report big news, things that involve the government or powerful people, it kind of makes us wonder if we should report or what – it makes us think of self-censorship."
The government's contention with VOD is likely much deeper-seated than just one article. Amongst other things, in just the past year, the international-donor-funded publication's in-depth coverage of Cambodia's cyberscams industry helped prompt a global spotlight on alleged elite involvement in organised crime.
But the piece in question cites government spokesman Phay Siphan, a prominent voice of the ruling Cambodian People's Party, as saying it would be permissible for Manet to act on his father's behalf to sign on an official order granting disaster aid to earthquake-struck Turkey.
Legally, such a stand-in procedure is allowed only for more senior leaders proceeding down a chain of command, but Siphan is quoted as rejecting unnamed critics who would oppose extending the duty to Manet. Last year, the Cambodian government ushered in multiple constitutional changes to help ensure a seamless handover of power from father to son.
The spokesman Siphan did not respond to a request for comment.
The piece prompted a response from Manet, who posted on 11 February on his Facebook page that the reporting was inaccurate and that he'd not signed for his father. That claim of an error quickly escalated when his father demanded on his own Facebook page that VOD apologise to his son.
Hun Sen gave the publication a 72-hour window to comply, threatening court action if they did not. He soon narrowed the window and raised the threat to yanking the outlet's media licence, effectively shutting it down.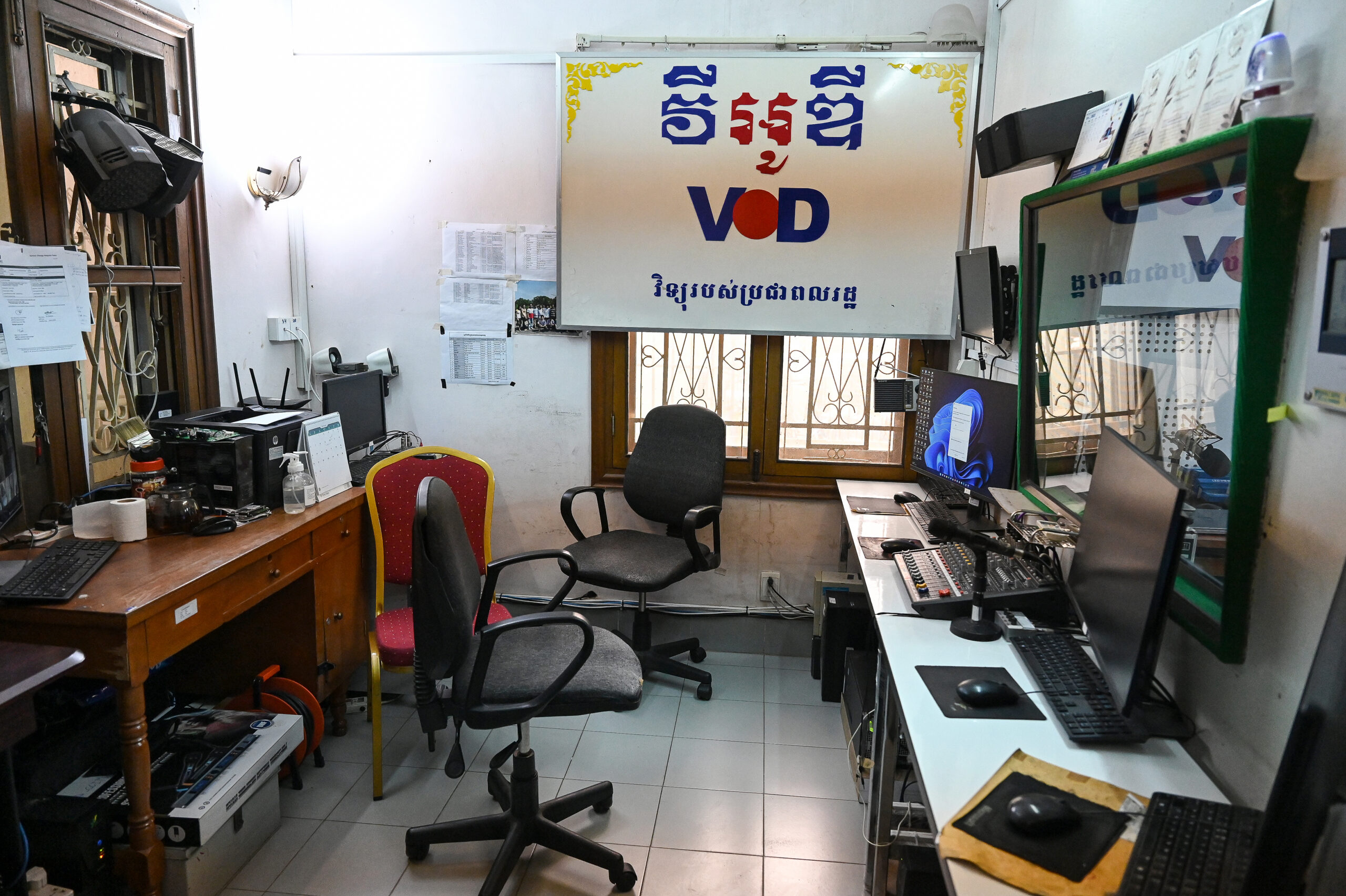 Sothoeuth from CCIM said a delegation from his organisation met on Sunday with the Ministry of Information, the office tasked with overseeing media groups, to try to work out the issue with them. That included writing an apology letter for the prime minister.
Hun Sen claimed to have found the text insufficiently contrite. By Sunday night, he ordered the Information Ministry to cut VOD's licence. On Monday morning, ministry officials arrived with a small police escort – and an audience of Cambodian journalists manoeuvring for photo angles – to deliver paperwork ordering the publication to stop its work.
"I think it's a huge blow to press freedom in Cambodia," said Chak Sopheap, the executive director of the national advocacy group Cambodian Center for Human Rights, who came on Monday to the CCIM office to speak with staff.

"Cambodia has come to this place of narrowing civic space since 2017, with the historic moment when the ruling party believed they lost their popularity," Sopheap added, pointing to the closure of the Daily and the buy-out and gutting of the Post.
"Instead of improving their own governance, they continued harassing civil society actors."
VOD held the line within that broader decline of the media sector. Formerly a terrestrial radio station, the outlet had already lost its broadcast licence in the 2017 crackdowns, switching to a digital-only format with a wide reach on social media.
With about 1.8 million followers on Facebook, VOD Khmer made up the bulk of the publication's audience. Though it forged more international connections, VOD English was a fairly recent creation put together in large part by former staff of the Daily and the Post after the loss or decline of their own publications.
At the same time, the demise of critical daily newspapers and radio in Cambodia, aligning with the 2017 elimination of political opposition Cambodia National Rescue Party, was matched with the increasing volume of state-friendly publications such as the Khmer Times but especially Fresh News. The latter enjoys a particularly tight relationship with the ruling party, for which it functions as a mouthpiece.
The spirit of a non-state-aligned source helped VOD stand out in both of its published languages. It also provided a platform for young Cambodian journalists to learn the trade in a working newsroom environment.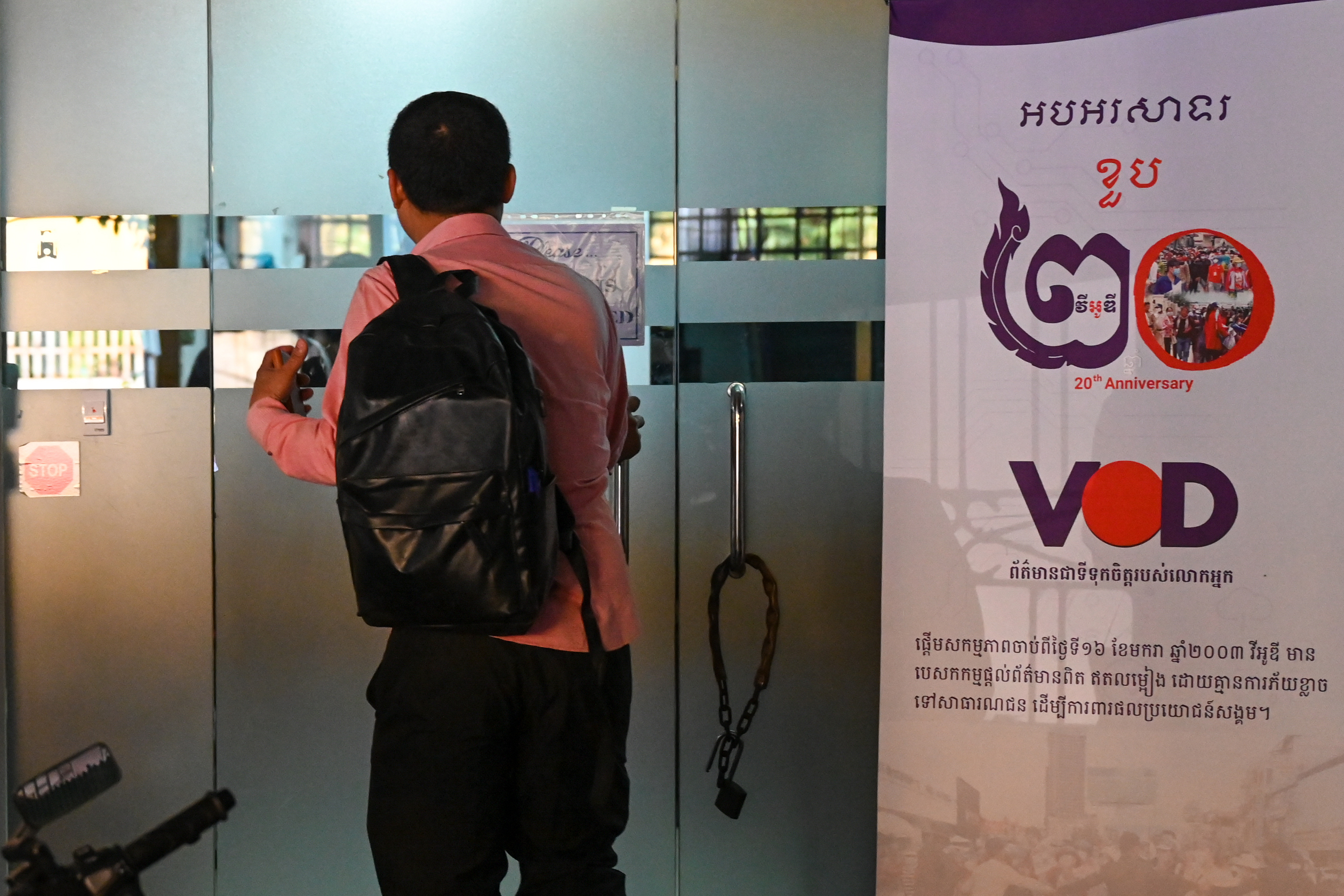 Keat Soriththeavy, 23, is one of these early-career reporters. She started full-time at VOD last year after first taking a fellowship there in 2021.
"This is my dream job, to be a journalist," Soritheavy said, explaining that she first wanted to take on the job after watching a female reporter calmly question a provincial governor.
"With VOD and CCIM, a lot of young journalists have grown up here, including me, and have gone on to work at other places. This is a really rare source in Cambodia," she said.
Though Soritheavy and the other VOD reporters are now waiting to see if there's a chance their publication will live on, the young reporter intends to keep to her path.
"I think I'll stay in journalism if I can," she said. "I won't give up so easily. The government can make such a fast decision like this, but I can't accept it."