Toul Sangke on Phnom Penh's urban fringe – a faded portrait of the Cambodian royal family adorns the doorway, watching over the otherwise bare interior of a wooden shanty. Bonlea sits cross-legged at the end of a line formed by the seven other members of his family. His passive expression breaks into a nervous grin.
"Sometimes I feel proud of this city," says Bonlea of the Cambodian capital. "I have seen all the changes and the new developments and I feel proud because my nation is becoming more modern."
Then a change comes over his demeanour, his shoulders starting to sink. "But I know that none of it is for me. Sometimes I feel hopeless because I see everything in the city is growing and improving and still my life does not change," he says.
As a construction labourer in Phnom Penh for the past 14 years, Bonlea has been positioned better than most to observe the consequences of the boom on the city and its people. On the back of an unprecedented run of double digit economic growth, Phnom Penh is trying to develop all the trappings of a modern Southeast Asian city in just a few decades.
Construction has become the backdrop and soundtrack to the city, with voices like Bonlea's drowned out by the cacophony. His story, however, is coming to embody the experience of an entire demographic of low-income workers in Phnom Penh. "With the city growing I see more people who are rich but our lives have not improved," he says while wringing his hands. "I hope in the future something can change, not just for the city but for the people and how they live."
Stark inequality in a developing Southeast Asian city is nothing remarkable, although there are aspects of Phnom Penh's evolution that set it apart. Accompanying the urgency to develop is a penchant for the grandiose that is bordering on the quixotic. It is a combination that – coupled with a rubber stamp development approvals process – has thus far resulted in everything from unfinished Dubai-esque satellite city projects and extravagant five-star hotels, to monolithic government offices and even plans for Asia's tallest building. Often, such projects are found just a stone's throw from areas where foreign aid-funded projects still work to retrofit basic infrastructure into unpaved streets. The resulting image is something of a dichotomy, and one that is coming to characterise Phnom Penh. For people at one extreme, such as Bonlea, the image looks bleak.
Samien has been a cyclo taxi driver for 17 years. Relishing the chance to show off his self-taught English, he talks of his work with pride. "I am happy with what's happening in Phnom Penh," he says. "The roads are better than before and easier to ride on, sometimes foreigners give me $5 tips."
Samien lives with his wife and five children in the former landfill site of Stung Meanchey to the city's southwest. As he speaks, the tapestry of salvaged canvas that forms his roof flaps in the wind of an impending storm, momentarily drowning out his voice.
"My life has also become more difficult. Land is a problem, I had to sell my land in Prey Veng province when my daughter needed hospital treatment," he says. "It is very hard for people to make money in the city without land. Now I am very worried because I do not own the land I live on. Every day I am scared they could tell me to go at any time."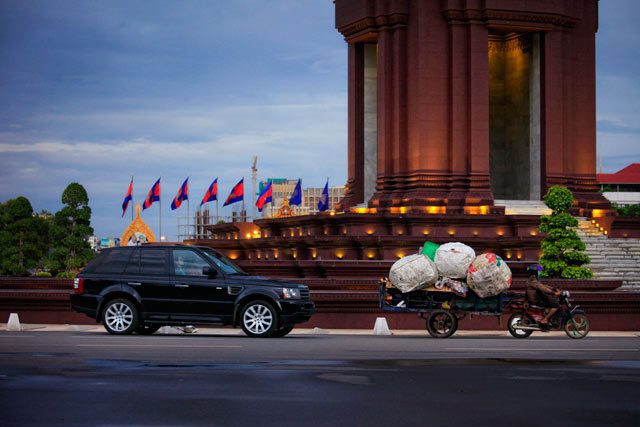 Samien's anxiety is well founded in Phnom Penh. The zeal with which the municipal government has pursued a programme of eviction and resettlement has dramatically altered the face of the metropolis. According to Sahmakum Teang Tnaut, a local NGO that monitors land rights and evictions, about 150,000 of the city's low-income residents – a full 10% of the total population – have been displaced since 1990, a displacement so comprehensive that a first-time visitor could be forgiven for thinking urban poverty is almost a non-issue in Phnom Penh compared to some of its regional neighbours.
However, despite becoming less visible, the poor remain in many ways a key part of the city, the informal economy they comprise forming a vital cog in the wheel that keeps the boom rolling. Informal labourers are literally constructing the new Phnom Penh; in lieu of any public mass transit, motodop and cyclo taxi drivers are vital components in the urban transport system; and the service sector and even the way the city feeds itself is heavily intertwined with the informal economy. Yet, as Samien observes, being excluded from land in the city is reinforcing an economic segregation that is keeping people like him firmly outside the clique reaping the benefits of the boom.
Vary, a 30-year-old mother of three from Kampot province has a different take on what it means to be at the bottom of the income spectrum in a booming Phnom Penh. "Sometimes I feel disappointed when I see how rich people in the city are," she says while perched on the small wooden surface that serves as her family's table and bed. "But I am not angry. If they are rich it is because that is their destiny and this is my destiny." It is a sentiment that draws murmurs of agreement from two of her neighbours silhouetted in her small doorway.
Vary lives in Daeum Salang in the city's north, earning a living by selling shellfish and snails. A typical day consists of pushing her makeshift cart around the streets for about nine hours. Unlike most Cambodians, Vary seeks out the oppressive afternoon heat, harnessing the sun to cook her wares. A successful day's trading might net her around 20,000 riel ($5). When asked what changes the boom has brought her directly, Vary considers the question for a long moment. "Everything in the market is more expensive but I earn the same. I try, but I am still poor," she replies.
Many Cambodians share Vary's belief in destiny, or 'Veasna', with its origins in an interpretation of Theravada Buddhism. While this could go some way to explaining her apparent placid acceptance of her predicament, Vary is not without hope of a better future. She speaks passionately about wanting her children to lead a better life than her. "I want to improve my situation and earn more money to help my family," she says, before tapping an index finger on the wooden structure on which she sits, "but now we sleep with five people here, things are not easy."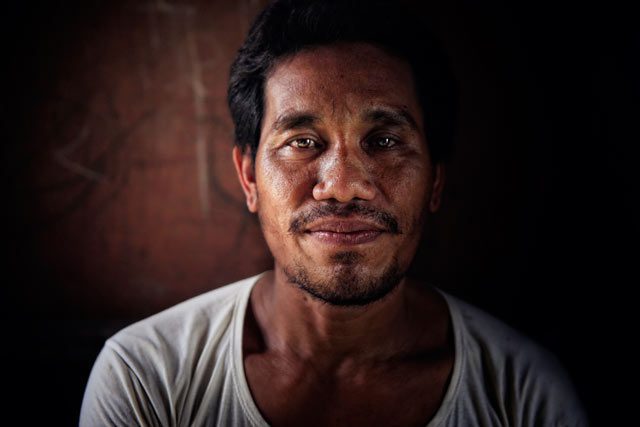 While Veasna could be seen as a convenient apologia for the ongoing inequality, not all of Phnom Penh's low-income earners share Vary's tranquillity. For Bonlea, the inequality is having a destabilising influence that can be felt on the city as a whole. "The people were moved to make way for more development," he says, sweeping the air with his hand to symbolise the displacement. "After they were moved they cannot earn enough money to feed their families so there is more crime, people have no choice."
For many of the city's poor, the story of the boom seems to have been at best one of ambivalence, with their experiences pointing to patterns of exclusion – at times reinforced by culture – being built into the urban fabric. "I don't feel like it's my city," says Bonlea. "It's a city for the rich and I am on the outside."