Having positioned itself as a low-cost manufacturing alternative,
the Kingdom is finally attracting the big boys
By Philip Heijmans
Faced with relentless increases in wages and operational costs on home soil, Western manufacturing firms staged an exodus to Asia about a decade ago in search of lower costs. They planned to tap into a regional supply chain that had formed in countries such as Vietnam and Indonesia while taking advantage of low wages offered by the world's largest exporter, China. It was a move that bolstered many a bottom line, but ten years on times are changing.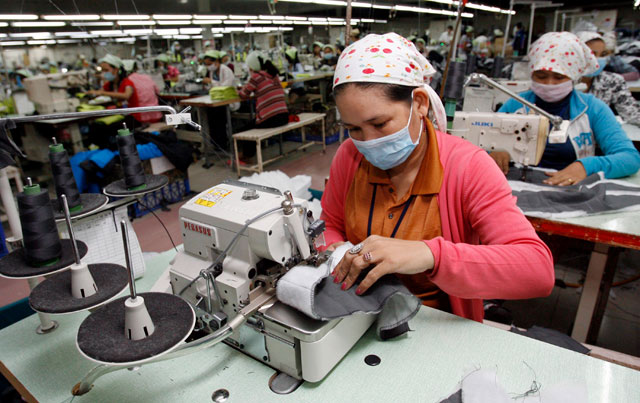 Driven by a rapidly growing middle class, China has become increasingly prosperous in recent years. Seeking to meet the needs of this homegrown customer base, some Chinese manufacturers have forfeited the interests of exporters for those of the country's domestic customer base. Furthermore, growing wage demands in China and Southeast Asia's light manufacturing countries are forcing global retailers to consider other options as they search for the next low-cost manufacturing destination.
The result has been a speedy realignment of the jigsaw puzzle that is Asia's manufacturing supply chain. China has become bullish in foreign markets, investing billions of dollars in new factories and infrastructure development projects. Vietnam, meanwhile, has earned the title of Asia's new tech hub as it moves from low- to high-value manufacturing.
Investors in Cambodia are prompting a manufacturing upgrade by building value-added manufacturing plants, producing automotive parts, sporting equipment and small motors for various consumer products. The Kingdom – where low-value garments accounted for nearly 90% of the country's exports last year – has become an alternative marketplace for many of the industry's heavy hitters, as spending countries like Japan are eager to wean themselves off their dependence on China. In December last year, Japanese auto parts maker Yazaki Corp opened a $24m wire harness factory in southern Koh Kong province, using sophisticated technologies to employ as many as 2,000 people by 2015, the company said.
"I think it is a bit of a push factor since other places like China, Bangkok, Vietnam or the Philippines are now oversaturated in manufacturing, so firms are targeting Cambodia. It is a market of relative advantage," said Chan Sophal, president of the Cambodian Economic Association. "Cambodia is now moving up the competitive ladder thanks to economic growth within the country and neighbouring countries, where many Cambodians are taking… cutting down the supply of labour and driving up wages."
Global automotive components manufacturer Denso announced in January that it would invest a modest $400,000 for the development of its new subsidiary Denso Cambodia Co. Ltd., which will produce sensor components at its new facility in the Phnom Penh Special Economic Zone (PPSEZ).


"To support the increasing production of motorcycles and automobiles in the Asean region, we've decided to establish a production company in Cambodia," Sojiro Tsuchiya, Denso's executive vice president in the Asia and Oceania region, said at the time. "This will enhance our production needs for customers in the region. Denso remains committed to expanding its production and supply framework in line with market trends in various regions of the world, as well as… to create jobs and facilitate economic development in respective regions through its operations."
Yamaha Motor, Laurelton Diamond – a subsidiary of the popular US-based jeweller Tiffany & Co – Malaysia's CH Steel Wire Industries, and Japanese firms Marusan Plastic and Nikko-Kinzoku Cambodia, which makes wax castings, are in the process of building factories in the PPSEZ. They join a list of existing manufacturers that have entered Cambodia in the past two years. These firms include US conglomerate Ford Motors, which began producing vehicles for the Cambodian market at its $3m-assembly plant in Sihanoukville last year, and Minebea, which completed the first building of its precision motor plant in Phnom Penh in December 2011 and is well into the second phase of its $60m-project in Cambodia.
There are plenty of push and pull factors attracting investors to Cambodia, says Hiroshi Uematsu, managing director of PPSEZ.
"As for internal factors, we can say Cambodia has lower labour costs than other countries, good political stability and investor-friendly government policy," he said. "As for external factors, we can say increasing labour cost, a shortage of labour in China, Thailand and Vietnam, and specifically for the Japanese, anti-Japanese action in China."
Phnom Penh's SEZ welcomed 16 new factories last year and has 18 in the pipeline. With the park at near capacity, it is looking to expand prior to the establishment of the Asean Economic Community tentatively set for 2015, Uematsu said.
"[On an industrial level] it will become nonsensical to view the Mekong region as a group of countries," he said. "If we compare the Mekong region to Japan, Bangkok is Tokyo, Saigon is Osaka, and Phnom Penh will become Nagoya."
The Cambodian Investment Board approved $829.68m-worth of projects in the industrial sector last year, 36.35% of the total $2.28 billion-worth of projects approved across all sectors. The list includes a $31.6m Chinese-owned shoe manufacturing plant, a $2.2m kitchen and tool producing plant for Korean-firm Mansin and $11.3m for an electric wiring plant. Although many approved projects never come to fruition, the list is a good barometer to gauge the interest of foreign investors.
"Recent surveys indicate that the Cambodian economy is diversifying. Part of that diversification is light manufacturing and we expect that trend to continue. There is also growth in the food processing industry, also critical for value added purposes," said Bretton Sciaroni, chairman of the International Business Chamber of Cambodia, referring to the current construction of US-based firm Crown Cork's $40m aluminium can production plant in Sihanoukville, which will serve clients such as Coca-Cola and Tiger Beer.
"Cambodia can graduate out of a category that only has garment manufacturing as we attract other business here," he said. "This will be increasingly evident especially after a number of hydroelectric plants come online, which will help the availability, reliability and pricing of power in Cambodia, a key consideration for the manufacturing industry."


Indeed, a lack of sufficient power sources in Cambodia means electricity costs are among the most expensive in the region, as the country remains dependent on Vietnam for imports. However, this is only one hurdle preventing some firms from stepping into the market.
"The question is whether or not we can continue to offer the same wages in Cambodia, given that we have much higher costs with regard to other aspects including electricity and logistics – as well as not having the economy of scale in technology and vocational training," said Sophal. "There are so many factors in theory that make production here less competitive and firms then pay wages to employees [accordingly]… so those are the disadvantages." Rampant labour rights abuses – including poor workers' safety, contemptible wage practices and sudden layoffs  – propelled by a vague and unenforceable rule of law are also detracting investors, experts say.
On May 1, following a string of protests and strikes, the minimum wage in Cambodia for garment and footwear workers was raised to $75, with an additional $5 health allowance.
"The majority of labour disputes still revolve around the garment sector, but there is still a need in Cambodia for all workers to earn a living wage," said David Welsh, country director of the American Centre for International Labor Solidarity, adding that many workers across all sectors are unable to cover the costs of living as advocates continue to fight for the a national minimum wage of $100.
As arbitration gains prominence in Cambodia, there is still hope for good labour practices, says Welsh, especially as foreign suppliers are increasingly taking responsibility for paying workers who have been laid off without notice. "There is still a huge way to go, but I think in the garment sector and in other sectors that Cambodia is… going in the right direction and it will not take much to make labour laws more efficient," he said. "Here, there is a real chance for things to improve."