Expansion is the name of the game at Canadia Bank, says the company's CEO, Michael Lor
By Christian Vits
Having an office located on the 28th floor of a skyscraper, with spectacular views of Phnom Penh, may help when developing new ideas. Michael Lor, Canadia Bank's CEO, is certainly a man with a vision. "We want to diversify the bank into a financial services group," he explains. "In this group, of course we want to expand the depth of financial products and the breadth in terms of locations."
The first step has already been taken. In late September, Canadia Investment Holding launched Cambodia's first financial institution with a majority local ownership, Cambodia Post Bank. Split between Canadia (50%), Singapore's state-owned Temasek unit Fullerton Financial Holdings (45%) and Cambodia Post (5%), the bank will deal primarily with microfinance loans, with its customers expected to be small businesses that lack access to ordinary banking and other financial services.
Cambodia Post Bank is already setting its sights high, aiming to be "one of the top five microfinance institutions in Cambodia within the next three years", according to Lor. The new bank will expand "very aggressively" in the provinces, targeting the agriculture and retail sectors, as well as small and medium enterprises. The number of employees, currently about 250, may reach 1,000 by the end of next year, says Lor, who sees the relationship between Canadia and Cambodia Post as "symbiotic" – Cambodia Post focuses on loans below $50,000, while Canadia concentrates on anything above that figure.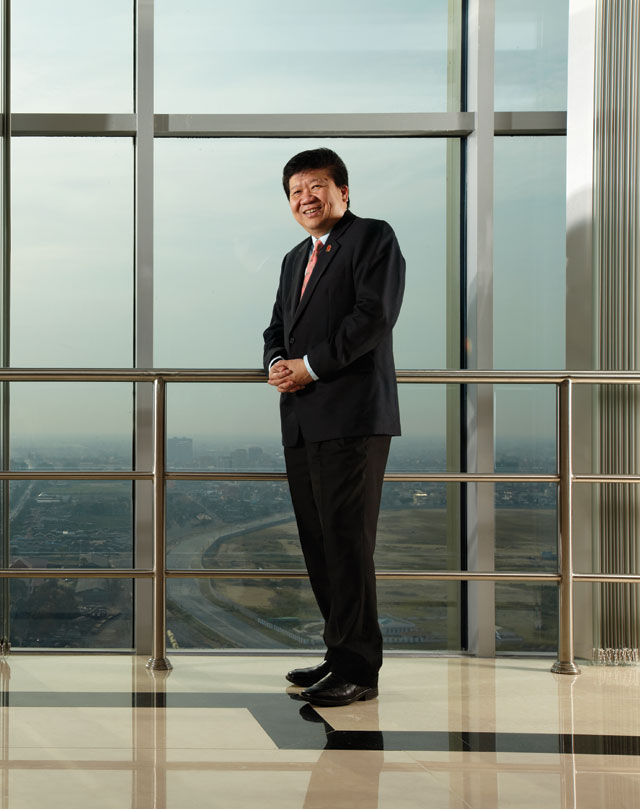 There will certainly be no rest for this National University of Singapore graduate, with the launch of an insurance company in the pipeline, as well as Canadia's ambitious growth plans. "We're expanding regionally, starting in Laos, Myanmar and probably some of the closer cities in China," says Lor. With existing customers moving to some of these areas, Canadia wants to be sure they are there to support and profit from them.
Such expansion will benefit from a "resilient and stable" economic climate in Cambodia, says Lor, who expects 7-8% growth next year. "It's an economy that continues to hold many promises for investors," he says, "and bearing in mind that the availability of credit is limited for Cambodians, it's not difficult for us to expand."
However, the impending establishment of the Asean Economic Community (AEC) in 2015 gives Lor some cause for concern. If the liberalisation of banking services is implemented too soon, banks in less-developed nations such as Cambodia could face disadvantages due to a lack of size, capabilities and modern product structure, he says. "When the AEC comes we don't only compete locally, but with the best banks in the region. Someone could come and play in your backyard. Do you have the capability, the tenacity to withstand that?"
Although Lor insists that the AEC is "a necessity" for Asean countries, he argues that a staggered implementation process might prove more suitable given the bloc's economic disparities. Otherwise, he warns, "for the Cambodian financial sector, it would be a pretty tough journey".