Press the play button to listen to the audio version of this story.
Inside the colourful interior of Brasat Mohor Pagoda outside the city of Kampong Thom, about 30 members of the local older people association gathered for a day of activities.
There was singing, a massage train and a raucous round of a variation on the game Simon Says.
But alongside the fun there were more serious discussions. As they sat in a circle, a few young children flopping down in laps, the group of older people talked about the benefits of getting vaccinated for Covid-19, applying for a national equity card and making contributions toward the community fund for funeral costs.
Uch Ith, a 63-year-old who looks after her grandchildren when her adult children are working in Phnom Penh, said the government assistance she gets for being low-income is not a lot, but at least it helps with some of her bills.
"The [government payments] help relieve me temporarily," she said. "When I can't earn enough, I have the money to sustain my family's needs and keep some to buy medicine for myself."
Ith represents many of the challenges older people in Cambodia face, juggling family obligations with poor health and little money to spare. As working-age people increasingly leave rural areas for places with higher salaries, from Phnom Penh to Thailand and beyond, more older people are in need of support outside of traditional family structures. Government programs benefit some, but experts say many are left behind without universal assistance targeting the old-age population.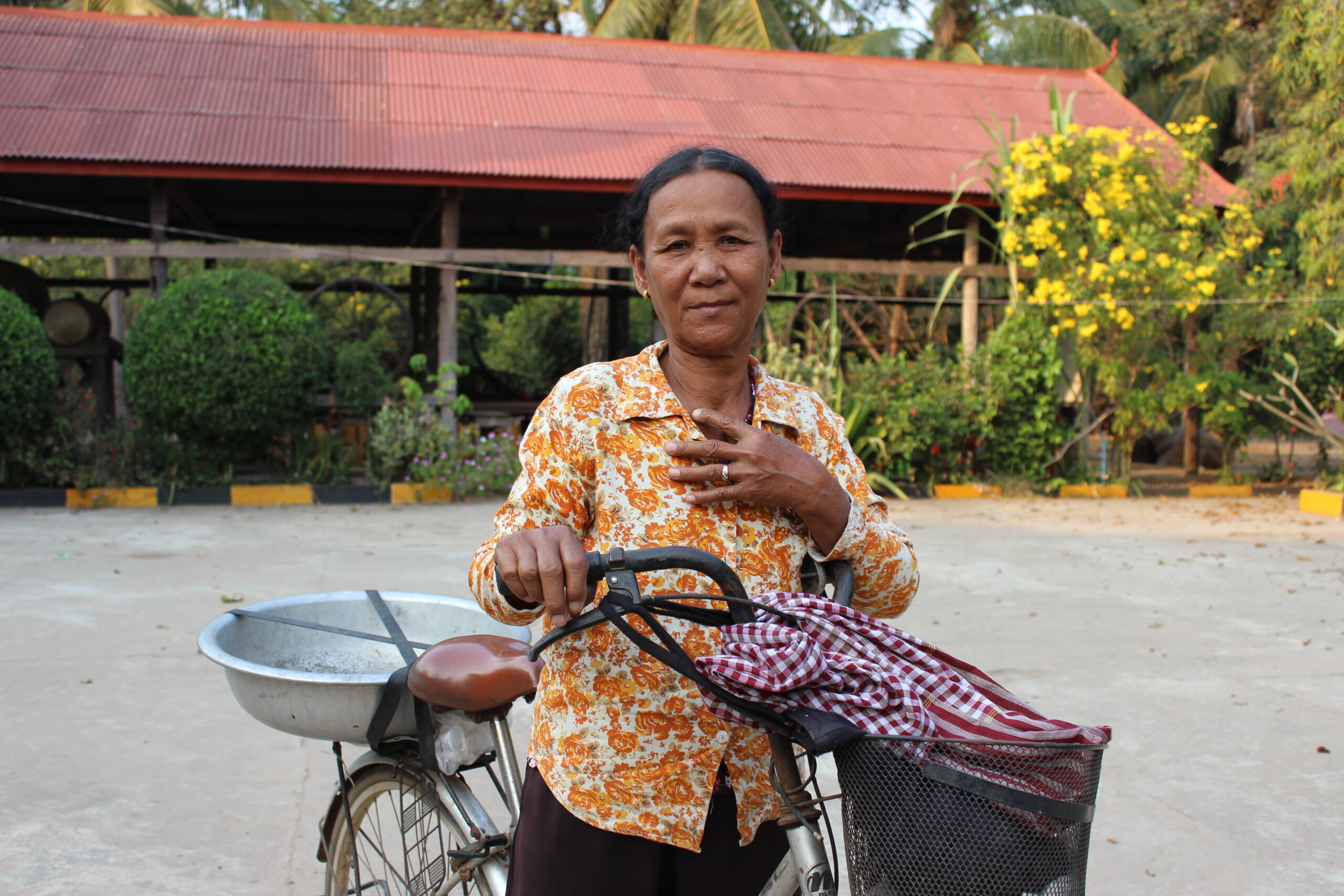 ---
Cambodia's population is young compared to other countries in Southeast Asia, with a median age of 25.6 in 2020. Still, the ageing population is growing – by 2030 the 65-and-older segment is expected to increase by up to 11%.
This elderly population survived the Khmer Rouge, many living with trauma and in need of mental health care. Deaths from landmine explosions, road accidents, HIV and poor health due to poverty have disrupted family structures that traditionally support people in old age. Lack of education for many poor Cambodians, especially for women who also tend to live longer, meant less access to formal employment and opportunities to save.
With the cultural expectation that children bear the sole responsibility for their elderly parents, most older people rely on their children as their main safety net. But a transformation of the family structure and therefore how elders are cared for is looming in the country. Some children of ageing parents don't make enough income to support them. For others, an uptick in urban and international migration in pursuit of higher paying jobs means older people are increasingly left behind in rural areas to take care of grandchildren.
"It's interesting because in Cambodian culture, people respect old people a lot," said Im Soksamphoas, a postdoctoral fellow with the Center for Khmer Studies, a private American Overseas Research Center. "I think the reason that people sort of forget about old people is because they think old people are already taken care of by their family members, their children and grandchildren, so they don't need to pay attention to them."
HelpAge Cambodia is a nonprofit working to provide some of that needed attention. The organisation strives to help marginalised older people live healthy and secure lives.
One area the nonprofit focuses on is developing older people associations. These community groups provide informal support for people generally aged 60 and up, and are run by local volunteers and older people. So far, HelpAge Cambodia has helped establish over 230 associations at village levels. The Ministry of Social Affairs, Veterans and Youth Rehabilitation supports the formation of these organisations across the country.
The nonprofit's team also works to get people registered for government assistance, including through the Identification of Poor Households Programme, known as IDPoor, part of the National Social Protection Policy Framework. People identified at the lowest poverty levels, as well as those with disabilities and other vulnerabilities, are able to get government services and monthly cash deposits.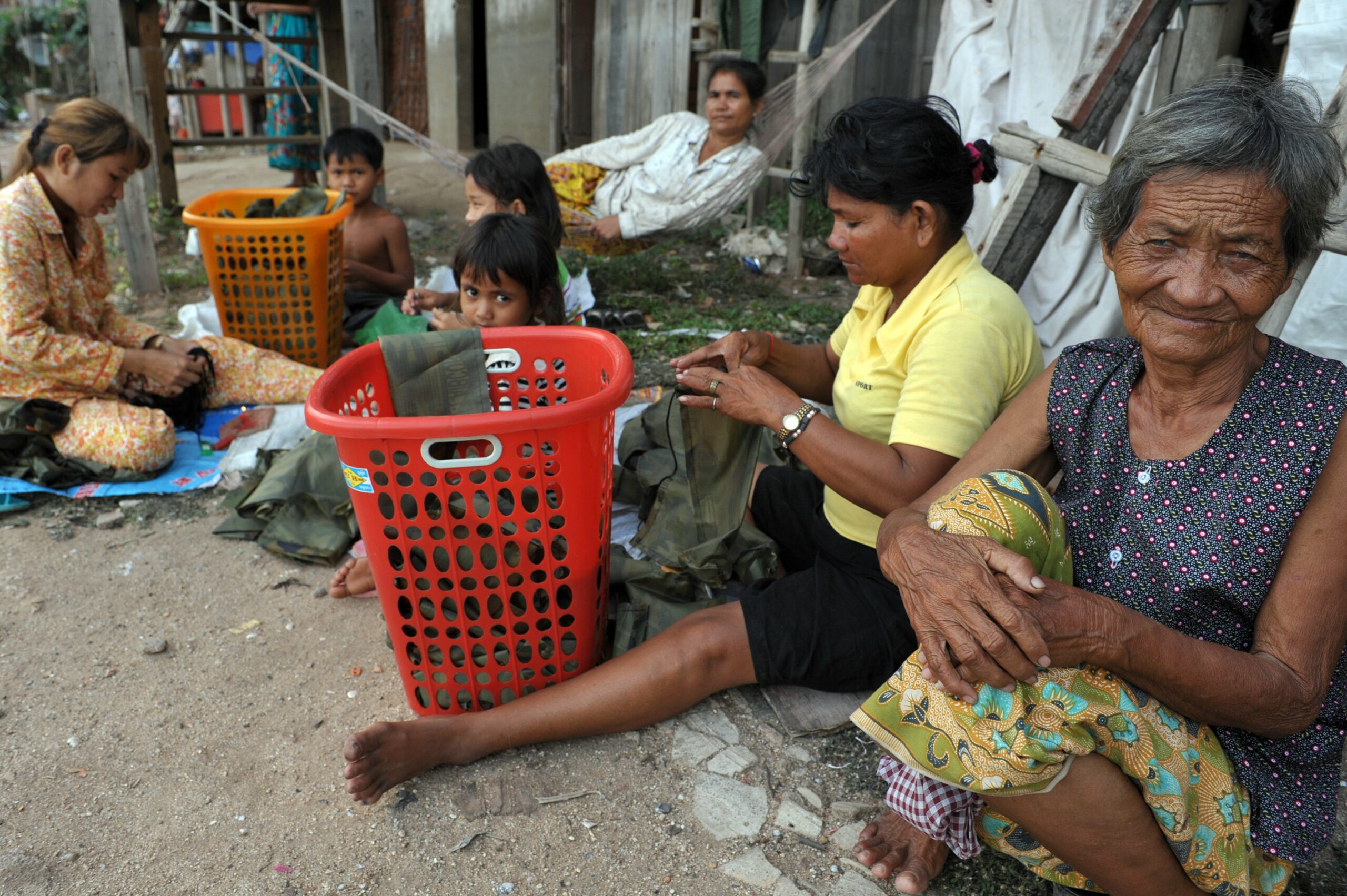 ---
During the pandemic the government expanded the programme and eligible families received about $45 a month on average. That helped restore household spending to 87% of pre-pandemic levels for groups that qualified.
But Tum Vira, HelpAge Cambodia's executive director, said older people in need are often excluded because of registration errors and inconsistencies.
"Sometimes the questionnaire cannot fully tell whether the family is really poor or not," he said.
People have reported to the nonprofit that they were disqualified because their family owned a small TV or a motorbike and were perceived to be too well-off. With local leaders carrying out the interviews, some have reported that personal conflicts or political disagreements with leaders have prevented them from being registered.
Tok Saody works with an older people association in the Moung Ruessei district of Battambang. She conducts IDPoor interviews with people in her community and sees firsthand how the narrow interview questions can at times exclude those in need.
Sometimes older people answer that they do in fact receive money from their children, and this disqualifies them from the government payments. But that money from children might be inconsistent, only handed out as gifts on holidays, for example.
"They still need the support from the government, even though they get support from their children," she said.
And the IDPoor status is determined by the household, which can disqualify elderly parents even if they are being neglected by their children. The working age children might not be providing adequate care to their elderly parents because of competing responsibilities and costs of raising small children.
"When [older people] go to the hospital for a check-up, their children will be responsible for that," Saody said. "Some children can only afford a little amount. The parents don't feel good about that because it's not their own money, it's not their own healthcare support."
Older people who live alone or don't have family can be even more vulnerable and isolated, and may not know that they are eligible for government help. Going through the bureaucratic process – finding documents and filling out paperwork – can be challenging for an older person.
Government spending on social protection overall is low compared to the region, and that's especially true when it comes to funding for older people. Only 3.2% of Cambodians 55 and older received an old-age pension, significantly lower than many other Southeast Asian countries, according to data published by the International Labor Organization in 2017.
---
The government has taken steps to improve the state of Cambodia's ageing population. In October the country launched a new pension programme, a significant milestone that will benefit a much broader set of the current working population when they retire down the line. The Cambodian government also developed the National Ageing Policy in 2017, with the goal to "ensure that older persons are enabled to fully participate with freedom and dignity".
But the pension programme will take years before retired people reap the benefits. And Soksamphoas with the Center for Khmer Studies said the National Ageing Policy still has a long way to go.
"The National Aging Policy, even though it was launched only a year after the National Social Protection Framework, hasn't left any impact on the older people," she said.
According to her, the policy has been slow to implement, information hasn't been disseminated well, especially in rural communities, and funding for the programme is still up in the air.
"When there's a policy already in place, the government can always claim credibility that, 'Oh, now we're putting our attention into caring more for the population,'" Soksamphoas said. "But the problem is that we don't know when the policy is really going to translate into any benefits at all for the target group of the population."
The National Social Security Fund and the Ministry of Social Affairs, Veterans and Youth Rehabilitation did not respond to requests for comment on this story.
The slow progress means Cambodia's older population today might miss out on the help they need to live out their old age with dignity.
Pech Chheup, a 65-year-old member of an older people association in Aek Phnum commune in Battambang, said she tries her best to support the people in her community by getting them signed up for available benefits. She also organises ceremonies where monks give blessings to elders, because taking care of the elderly sets an example for Cambodia's youth.
"I want the young people to understand the difficulties older people face…It doesn't mean that younger people do not care about elders but they are young and having fun," Chheup said. "The older people get, the less income they earn by themselves," and that's why they hope for more support.
Additional reporting by SoPhanna Lay.