With one Chinese-backed carrier taking flight and two more waiting in the wings, Cambodia's aviation sector is set to grow
By Jennifer Meszaros
As one of Asia's most promising emerging markets, and despite its highly seasonal visitor numbers, Cambodia posts some of the fastest growth rates in the global aviation industry, recording strong double-digit passenger growth in recent years. Cambodia's three commercial airports – Phnom Penh, Siem Reap and Sihanoukville – attracted an impressive 5.1 million passengers in 2013, an increase of 18% compared to the previous year.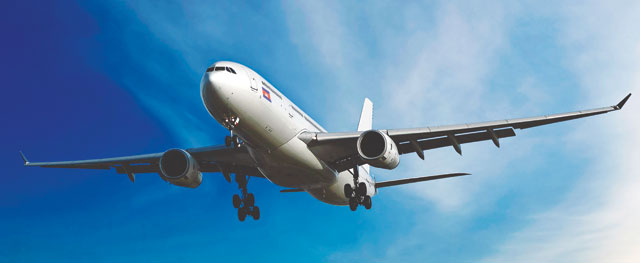 Cambodia's not-so-secret weapon is its burgeoning tourism industry. According to the Centre for Asia-Pacific Aviation (CAPA), international tourist arrivals accounted for roughly 95% of traffic at both Phnom Penh and Siem Reap airports last year. 
Considering that a relatively small percentage of Cambodians have the discretionary income to afford air travel, this figure is not wholly unexpected. Rather, the country relies heavily on inbound traffic to drive industry growth.
With incomes rising across Asia, so too is the demand for air travel, and Chinese investors are vying to get a piece of Cambodia's market share. The Kingdom is now home to one Chinese-backed airline and should soon see two more Chinese-invested carriers launching operations, possibly by year-end.  The new entrants will benefit from an open skies agreement that was established between Cambodia and China earlier this year, which should be implemented in 2015.
Taking to the skies first is Apsara International Air, a joint venture between Chinese and Cambodian investors. Apsara launched domestic services on October 8 after obtaining its air operator certificate (AOC) in September. The airline operates daily flights between Phnom Penh and Siem Reap using an Airbus 320 aircraft. Future plans include launching services to China and expanding its international network to Japan, South Korea and Russia in the next five years.
 Apsara's entry into the market ends Cambodia Angkor Air's effective monopoly on the domestic front – a clear sign that the government is loosening its regulatory grip in a bid to stimulate demand. Still, domestically speaking, Cambodia's market is relatively tiny. According to CAPA data there were only 180,000 scheduled domestic passengers in 2013. Furthermore, all were flown by Angkor Air, as opposed to Skywings Asia Airlines, Cambodia's second local carrier, which provides international and charter services. This year's figures appear more encouraging. According to Cambodia Airports, Phnom Penh handled 161,844 domestic passengers between January and June, an increase of about 36% compared to the same period in 2013. Siem Reap's domestic traffic increased by 45% in the same time period to a total of 201,472 passengers.
"Cambodia has lots of land that is largely inaccessible. As we see tourist numbers increasing it's very important to promote Cambodia as a package destination all on its own," said Ouk Ry, a senior partner with the Cambodian law firm Bou Nou Ouk & Partners, who practices aviation law. "Travellers who come to Siem Reap and tire of the temples can easily fly to the coast. Cambodia has great beaches and many beautiful islands but in reality only a few tourists visit each year… [Not many] people are coming… Cambodia needs to increase tourism facilities and promote domestic operations, especially from Siem Reap to Sihanoukville. This is what the package should be."
Cambodia holds a tremendous amount of growth potential, particularly in coastal areas. From January to July, domestic traffic between Siem Reap and Sihanoukville skyrocketed by 144% compared to the same period last year. Still, whether the route warrants another carrier is questionable. While the growth is significant statistically, in reality only 22,463 passengers boarded flights during this time period.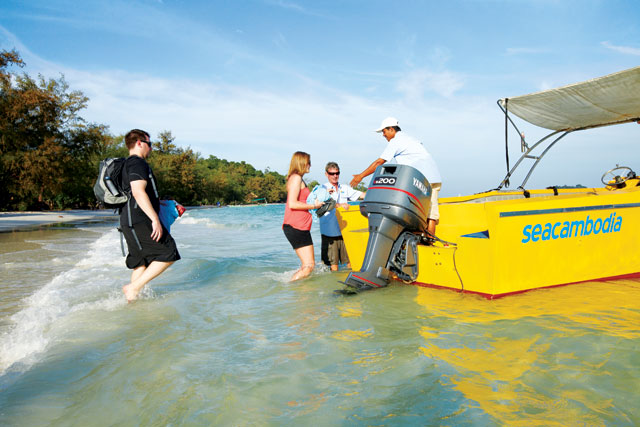 Two other Chinese-backed carriers – Cambodia Bayon Airlines and Bassaka Air – are also preparing to take flight. Bayon intends to launch domestically and run international services to China but also has ambitious plans to become Cambodia's largest carrier. A wholly owned subsidiary of Bayon Holdings that enjoys financial backing from Aviation Industry Corporation of China's Joy Air, Bayon is still awaiting regulatory approval. Despite this, the airline has already placed a firm order for two Xi'an Aircraft MA-60 turboprops and signed a letter of intent for 18 more over the next five years. 
Rather than focus on the domestic market, Bassaka Air is aiming for mainly Chinese customers. The airline, which is financed by China International Travel Services, was recently granted its AOC but has yet to announce a launch date.
With no foreign airline ownership restrictions, Cambodia is an appealing market for investors – particularly for China, which has been aiming to expand its global footprint. Investing in overseas airlines is one way to achieve this.
"The big concern in these growing markets is that you need an effective regulator that is ensuring that international safety standards are maintained," said Andrew Herdman, the director general of the Association of Asia-Pacific Airlines (AAPA). "As you allow a proliferation of new operators, each operator has to be supervised. In many cases, the regulator struggles to keep pace with that expanded workload, especially when their qualified staff is paid much less than the private sector. If you don't have a well-staffed regulator you cannot stay on top of a rapidly expanding industry."
With Cambodia's aviation sector gearing up to really let fly, another critical component is whether infrastructure can keep pace with growth and demand. Fortunately, the Kingdom does seem to have this covered.
"We have an obligation to plan in advance and anticipate growth," said Emmanuel Menanteau, the CEO of Cambodia Airports. "We fixed the objective that we will need to adjust our terminals in Phnom Penh and Siem Reap to be able to cope with the capacity of five million passengers – basically to double the capacity of our terminals – that we expect to reach by 2025. We are currently extending our terminals…and expanding our airports to cope with this  demand."
While the new entrants will have space on the ground in Cambodia, they can expect a radically different environment in China. The country is notorious for airspace congestion and a limited number of time slots.
"Most routes in Asia are heavily contested already with multiple airlines operating on various routes," said Herdman. "Runway slots at the major hub airports in Beijing, Shanghai and Guangzhou are pretty full. You can see over the last two to three years the deterioration of time performance for services in China, both domestically and internationally. Regardless of the operator, the issue of congestion affects everybody."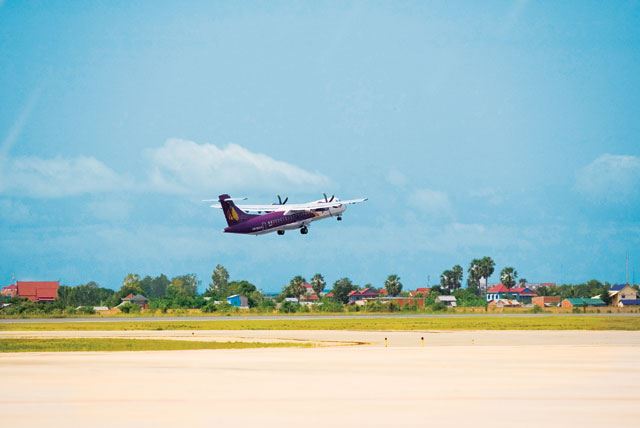 Despite their various strategies and mooted business plans, all three startups are ultimately catering to the Chinese market. It is a logical step – visitor numbers to Cambodia from China increased by 39% in 2013 to 463,000. Of the 3.2 million passengers that passed through Cambodia airports between January and June of this year, about 640,000 were Chinese arrivals.
While there may be sufficient demand to support greater capacity in the Cambodia-China market, airspace congestion and limited time slots must be addressed. Also, the newcomers face stiff competition from foreign operators. According to CAPA data, 27 international airlines currently provide services to Cambodia, with seven hailing from China.
"Anyone who enters the market has to recognise that they are up against competition from many established carriers within the region," said Herdman. "Just because there is market potential doesn't mean they will be successful… The key points for success are the strength of the brand, the airlines' networks and the distribution of the existing players. On top of this, the startups also have to ask where the market is – it won't be that easy for new entrants to break in."
Keep reading:
"Mekong: Mission impossible" – After last year's fatal Lao Airlines crash, a hastily assembled local dive team was scrambled. Their story is a remarkable feat of human endurance and teamwork