Acleda MFI Myanmar CEO Kim Bunsocheat spots the difference between Cambodia and Myanmar
By Bridget di Certo
When Kim Bunsocheat arrived in Myanmar back in September 2012, he was immediately struck by the cultural similarities between his new home and his own country, Cambodia. In this land not so different from his own, the key contrast noted by the chief executive and managing director of Acleda MFI Myanmar was in the regulatory environment.
"We can say that it is not the same as Cambodia," he said. "In Cambodia, you have a free market. But here in Myanmar, the government has only just reformed so they need to study a lot before they release a free market [economy]."
Bunsocheat is a career credit banker, having begun work with Acleda in Cambodia in 1996, later becoming branch manager in  the northwestern town of Poipet in 2005, before being relocated to head operations in Myanmar.
Acleda MFI Myanmar was issued an operating licence in February last year, opening their doors officially in June with offices in Yangon and the nearby Bago region.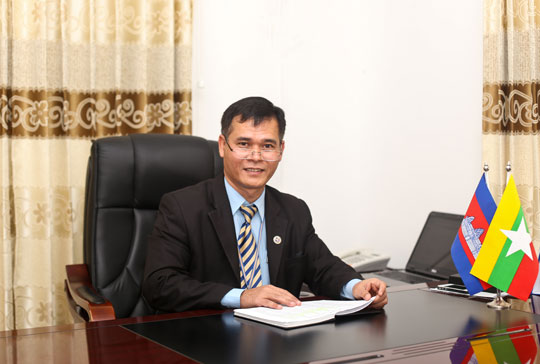 "The [Myanmar] government is trying to encourage microfinance. Always, when we read the newspaper, there are announcements about how to reduce poverty in society," Bunsocheat said. "Microfinance Institutions (MFIs) play a very important role in that. They encourage the economy to be brought to rural areas."
But the expansion of microfinance in Myanmar is under tight government control, with restrictions placed on everything from the number and location of offices, to interest rates and loan amounts. Interest rates are set at 2.5% per month for all MFIs, cumulative annual interest rates are set at 30% and loan sums are capped at about $500.
"It is not a competitive market [in Myanmar] because, if you compare competitive markets, it is usually about the capital, but the capital is too small here," Bunsocheat said.
While 189 microfinance licences have been granted to operators in Myanmar so far, Bunsocheat said government restrictions on interest rates and loan amounts would make it hard for new players to become profitable.
"We have done lots of research and have [bigger operations] in Cambodia and Laos so, at the moment, profit is not a problem for us in Myanmar," Bunsocheat said, adding that profits made elsewhere would not be able to keep the currently unprofitable Myanmar operation afloat forever.
"In the future there could be a problem because we usually strike a relationship with a client and then can expand their loans to small or medium size," he said, adding that the $500 limit currently in place scratches the usual prospects for expanding loan facilities and growing the MFI.
"It is not the same in Cambodia – there is no limit on the interest rate, no [limit] on the loan size the institution can provide, [and no requirements for] the sort of client who can take a loan," Bunsocheat said. Even the ministry responsible is different between the two countries, which Bunsocheat said share a similar battle in tackling poverty and increasing development.
While Myanmar has tighter control over the microfinance sector, it was easier to start operations in the current Asean-chair country than in Cambodia, Bunsocheat said. "Here, initial capital is $30,000. In Cambodia, for MFI it is $2.5 million. Here, undertaking is $15,000 and in Cambodia it is about $700,000," he said, adding that this was in line with the government's ambition to roll MFI access out to the most rural areas of Myanmar.
While the initial shape of the market is strictly defined by government policy, Bunsocheat said Myanmar's priorities were in line with a freer banking and finance sector. "There are still discussions here," he said, "and the authorities are listening."