As Jakarta's governor goes on trial for insulting Islam, his assault on Jakarta's poor could help fuel extremism

Last month, more than 100,000 Indonesian men and women marched on Merdeka Palace in the nation's capital. As the crowd neared the presidential residence, dozens of protestors broke off from the pack to hurl themselves into the ranks of uniformed police before being driven back by a barrage of tear gas. Howling for blood, the rioters began a pounding chant: "Kill Ahok. Kill Ahok."
Basuki 'Ahok' Tjahaja Purnama is the incumbent governor of Jakarta and the man expected to triumph in February's gubernatorial election. A devout Christian of Chinese ancestry – which makes him a minority in the Muslim-dominated archipelago – he sparked furious protests last month after criticising his political opponents' use of Quranic verse to undercut the legitimacy of his governorship.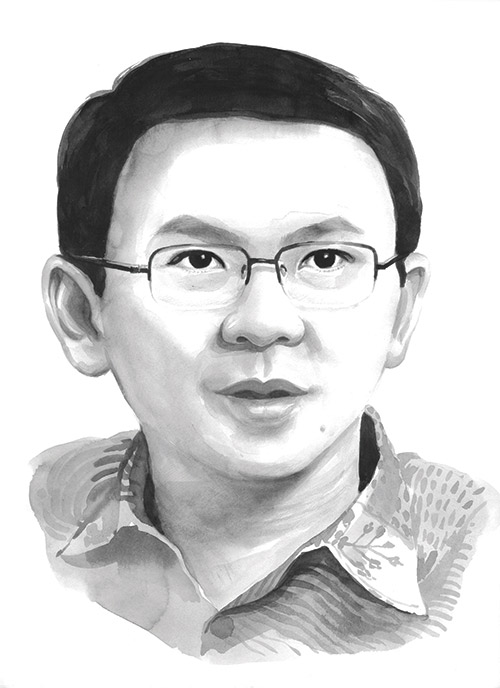 Since his first foray into politics in the 2005 East Belitung regent election, Ahok has developed a reputation for ruthless efficiency in dealing with the corruption endemic in Indonesia's tangled bureaucracy. Vedi Hadiz, a professor of Asian studies at the University of Melbourne's Asia Institute, told Southeast Asia Globe that Ahok's popularity as Jakarta governor had been undercut by a spate of forced evictions targeting the capital's poorest inhabitants.
"He's regarded as somebody who's gotten a lot of things done, in that he's exercised the sort of leadership that's necessary to free up the gridlocks that have impeded the Jakarta bureaucracy from undertaking its work," he said. "But at the same time he's very controversial for [his involvement] in the eviction of poor people."
Since he was promoted from deputy governor after then-governor Joko Widodo, also known as 'Jokowi', was elected president in 2014, Ahok has overseen the forced evictions of hundreds of makeshift houses in impoverished neighbourhoods to pave the way for high-profile public works.
In a fiery editorial in the Jakarta Post, editor Ary Hermawan suggested that Ahok's campaign against the capital's urban poor has driven members of the frustrated underclass into the hands of extremists.
"His ruthless eviction policy has fuelled resentment among the grassroots, who, as some observers have argued, may decide to channel their anger through radical Islamic groups in the glaring absence of support from top Muslim intellectuals and moderate clerics who are supposed to help and comfort them," he wrote.
He's regarded as somebody who's gotten a lot done… but he's very controversial
As mobs of furious protestors flooded the streets of Jakarta on 5 November calling for Ahok's arrest for 'insulting' Islam, the clamour of the crowd was matched only by the deafening silence from his political rivals. Despite calls for solidarity from President Widodo, neither Anies Baswedan nor former president Susilo Bambang Yudhoyono's son Agus – the main rivals for the governorship – condemned the protestors' actions.
Jamie Davidson, an associate professor of political science at the National University of Singapore, said the apparent silence of Ahok's political opponents was driven not only by opportunism, but also by self-preservation. "They haven't come out, but I don't think they've stirred up the violence either, or some of the mobilisation – but they're being strategically quiet," he said. "They're relying on the Muslim vote – and even though a lot of Muslims aren't for rallying, or for what it represents or for some of the violence, it might be at this point political suicide to speak out too gravely against it."
According to Vedi, the timing of the conservative Islamist outbursts revealed their motivations to be more political than pious. "It's not coincidental that all of this is emerging now – it's emerging right now because Jakarta is facing the election, and he is somebody that is in control of a very strategic office that a lot of his opponents would rather occupy," he said. 
Despite speculation that Ahok could follow in Widodo's footsteps and use his position to launch him into a trajectory for the presidency, Vedi maintained that deep-seated prejudice against both Christians and those with Chinese ancestry made the prospect unlikely.
"I can see him as a member of parliament, I can see him as a member of cabinet, but
I can't see him as president," he said. "You look at how long it took the Americans to elect a black president and [reject] a woman – I think it's just too early for Indonesia… to elect a Chinese Christian president."
For Davidson, though, the idea of Ahok returning to a position at Jokowi's side was not one that could be dismissed out of hand.
"I can't imagine him quitting the Jakarta governorship so quickly to become a strong presidential candidate," he said. "If Ahok wants to leave the governorship and become Jokowi's vice presidential candidate when Jokowi's re-election time [comes] that's one thing, but Ahok is not going to take on Jokowi."