Editors note: On 5 December 2019, a 22-year-old man fainted while being flogged in Indonesia's Aceh province on Sumatra island. Uninterested in his pleas for the masked sharia officer to stop whipping him, many of the 500 spectators in attendance reportedly shouted "harder, harder!" After fainting, he was promptly revived to receive the rest of his 100-stroke punishment, before being sent to hospital. His crime? Pre-marital sex. Despite international condemnation, brutal corporal punishment such as this remains common-place in Aceh, the only region of Indonesia that adheres to sharia law. In an article from our 2015 print edition, Southeast Asia Globe shed light on the province's strict enforcement of this brutal and unforgiving Islamic code of conduct.
One night in May 2014, a group of eight men broke into a house in Langsa, in Indonesia's western Aceh province, where they caught a 25-year-old woman with a married man. Accusing them of adultery – a crime under the region's Islamic sharia laws – the vigilantes beat the man, tied him up and gang raped his companion for violating religious edicts. Despite being raped, the woman went on to be flogged publicly for having sex outside of marriage. "We want the couple to be caned because they violated the religious bylaw on sexual relations," Ibrahim Latif, the head of the sharia police office in Langsa, told local media.
Since 2001, Aceh, a region of 4.7 million people on the tip of Sumatra island, has implemented sharia law – the only part of Muslim-majority Indonesia to do so. These religious edicts ban alcohol, teenage romance and limit the sale of food during the fasting month of Ramadan. For more serious transgressions, they mandate punishment by public flogging with a thin rattan cane, carried out by a hooded figure in the confines of a mosque.
In September 2014, the rules were tightened further. The local legislature passed a new bylaw, or qanun jinayat, which imposed harsher penalties on a range of new offences. Previously, caning was imposed for adultery, the consumption of alcohol, being alone with someone of the opposite sex who is not a marriage partner or relative (a transgression known as khalwat) and for any Muslim found eating, drinking or selling food during sunlight hours in the month of Ramadan.
Punishments for homosexual acts are especially harsh, currently standing at 100 lashes, 100 months in jail, or a fine of 1,000 grams of pure gold (worth about $38,500). Shortly after the new qanun was passed, activists at Violet Grey, the only lesbian, gay, bisexual and transgender (LGBT) rights organisation in Aceh, began disposing of documents and pamphlets, fearful that their premises would be raided by the sharia police. "It's absolutely against human rights. I think it's more about humiliating LGBT people," said Fanny, a transgender activist with the organisation, who asked that her real name be withheld for fear of arrest.
Founded in 2007, and counting 47 paid members, Violet Grey keeps a low profile. It operates out of a nondescript house on the outskirts of Banda Aceh, the region's capital, with no signs or identifying marks. Fanny said the new law would only increase anti-LGBT prejudices in Aceh, where openly gay people face frequent harassment from the authorities and the public. According to a recent Reuters report, a transgender make-up artist was stabbed to death in Banda Aceh in 2011 after trying to defend herself from a man's taunts.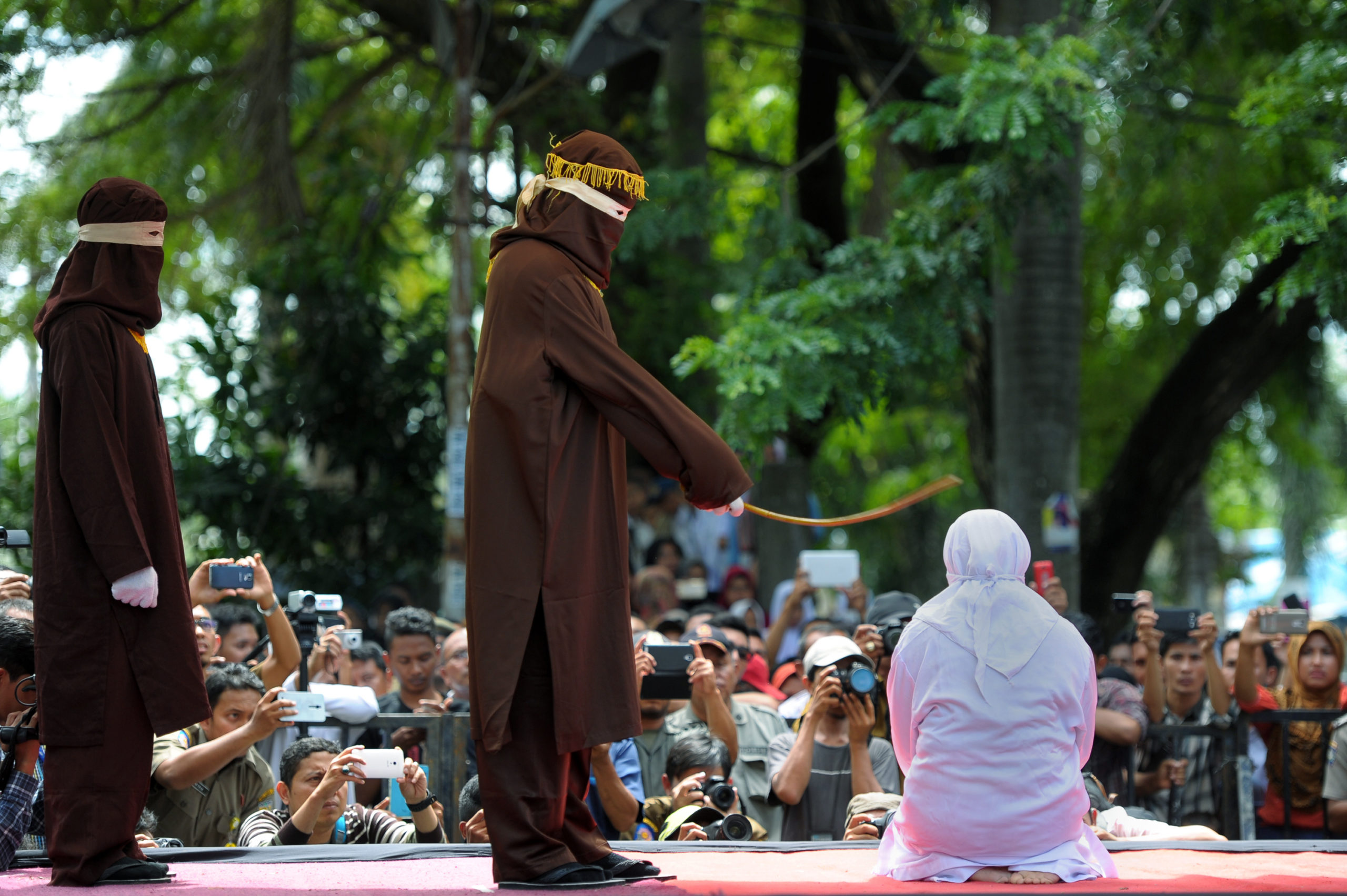 Last September's bylaw is a diluted version of one passed by Aceh's legislature in 2009, which mandated stoning to death as a punishment for adultery. After the resulting international outrage, the stoning provision was dropped from the bylaw, which now awaits approval by the Minister of Home Affairs in Jakarta, who will make a decision by this September.
Local and international activists want an end to caning, which they say is inhumane and degrading. "It's really against humanity and the values of Islam," said Rosnida Sari, a lecturer at the Islamic Institute in Banda Aceh, the region's capital, and part of a network of Acehnese activists petitioning Jakarta to amend the bylaw. According to Amnesty International, which says caning violates the Indonesian constitution and could "amount to torture", at least 41 people were caned in Aceh last year for violations of sharia law, including gambling, drinking alcohol and adultery.
Islam has a long history in Aceh. It was among the first places in Asia where the religion gained a foothold in the 12th Century. In 2001, the central government in Jakarta allowed Aceh to adopt sharia law in an attempt to undermine popular support for the secular Free Aceh Movement, or GAM, which had waged a decades-long fight for independence. A peace agreement signed between the government and GAM in August 2005 cemented further the region's autonomy from Jakarta – and the special status of Islam in the region.
Today in Aceh, religious edicts are enforced by green-uniformed sharia police, who drive about town ordering shops to close for Friday prayers and pull people over for violations of the strict Koranic dress code. (Headscarves are in; tight trousers are out.) In December, local newspapers even published an official edict banning the celebration of New Year's Eve, on religious grounds.
Defenders of Aceh's sharia law say the purpose of rules is to align temporal laws with spiritual precepts. "The aim of the upholding of the sharia law is for the people of Aceh to get prosperity and happiness in this world and also the afterlife," said Faisal Ali, secretary of the Aceh Ulama Assembly, a body of Islamic scholars, which helped formulate the new qanun.
In defence of canings, Ali said the practice was a more cost-effective way of punishing criminals than jailing them for long periods. "The purpose of giving canings is to give a warning to the people who break the law," he said. Indeed, videos of the floggings posted on YouTube look more embarrassing than painful – more like a ceremonial form of public ridicule.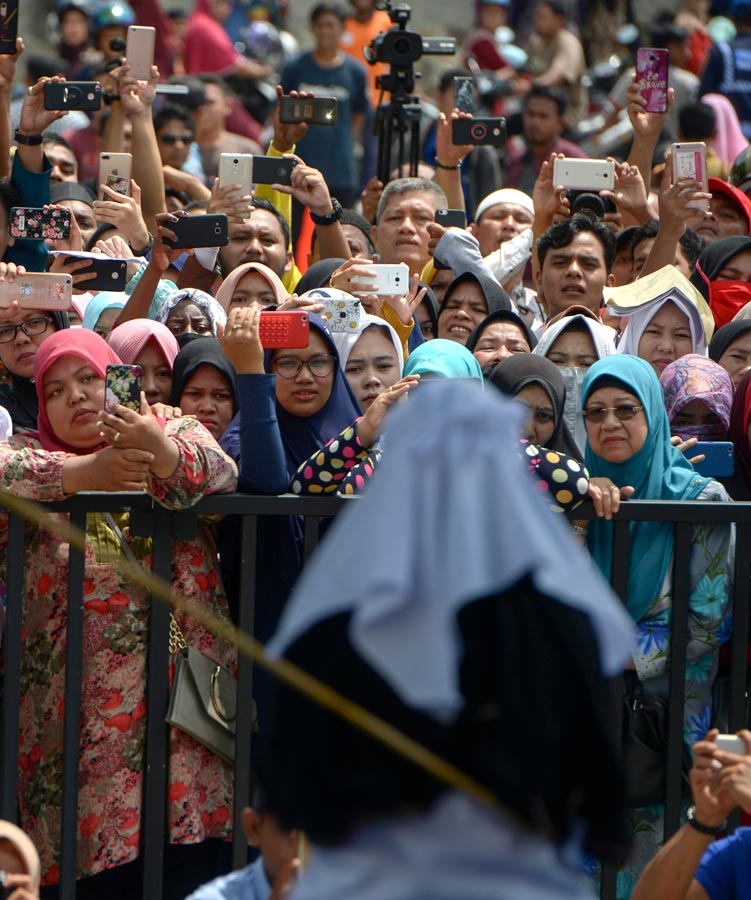 The aim of the upholding of the sharia law is for the people of Aceh to get prosperity and happiness in this world and also the afterlife

Faisal Ali, secretary of the Aceh Ulama Assembly
But Ruwaida, of Solidaritas Perembuan Aceh, a Banda Aceh-based women's rights group, said the real danger of the bylaw is that it will worsen discrimination against women, empowering the sort of zealots responsible for the gang rape incident in Langsa. Fanny, the transgender activist, said that if the new strictures come into force, "it will be more dangerous to live in Aceh" for the region's LGBT community, many of whom may simply decide to pick up and move to less conservative parts of the country. Even then, she said, there was a danger that other conservative parts of Indonesia might decide to adopt similar rules. For that reason, "the government should revise the qanun, or maybe just erase it", she said. "It is not the nation's business to take care of everybody's private life."
But while most of Aceh's population is proud of its religious heritage and devoutly religious, opinion is divided over whether the interpretation should be so strict.
At a recent seminar at the Islamic Institute in Banda Aceh, male and female students debated both sides of the issue. After the discussion, Badratin Nafis, a 20-year-old student clad in green headscarf and robe spoke of her belief that society should be run in line with Koranic precepts. But she saw something obviously wrong with the fact that under the sharia laws, a woman who reports a rape must present evidence, while a man can 'prove' his innocence by simply swearing a few times that he didn't commit the crime.
"The law affects women more than men – the ones that created this, who established this new qanun, are mostly men," Nafis said. I then asked her if spiritual matters should be the subject of official government intervention. She paused a moment. "No. These are personal problems," she said, "from people directly to God."
*This story has been amended to have different photos from the 2015 original