AccorHotels has won the Sustainable Business Award in recognition of the Group's policy on responsibility and ethics. The prestigious accolade was presented in the presence of Singapore's Minister for the Environment and Water Resources, Masagos Zulkifli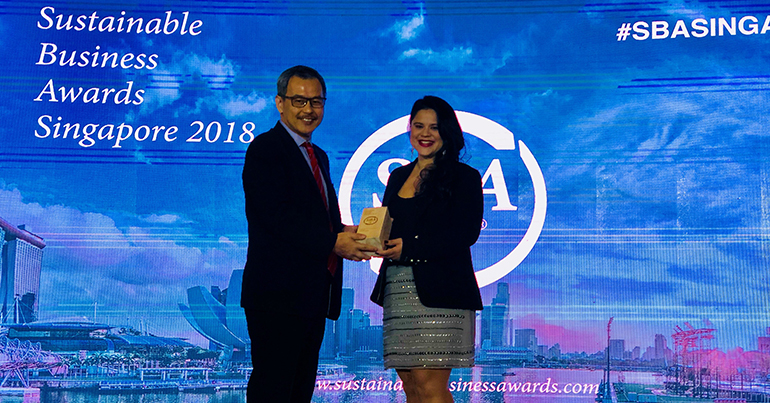 AccorHotels was specifically awarded in the areas of Business Responsibility and Ethics, thanks to its consistent commitment to operating in a responsible and ethical way to protect and give back to the communities in which it operates. This includes being the first hotel group to sign ECPAT (End Child Prostitution and Trafficking) and to train its staff to identify any related suspicious behaviour. The group was also lauded for its commitment to conducting information campaigns aimed at travellers, and for running fund-raising events and in-kind contributions towards the cause.
To this end, the AccorHotels' Ethics and Corporate Responsibility Charter was established in 2015 to ensure compliance with the most demanding ethical principles. The charter guides the group's management ethics, integrity and compliance, as well as corporate social responsibility (CSR). The Ethics and CSR checklist forms one of the key actions within AccorHotels' Planet 21 CSR program.
"We are honoured to receive this award, which is testament to the hard work and commitment of our teams in driving sustainable and ethical business processes," said Michael Issenberg, chairman and CEO of AccorHotels Asia Pacific. "We are absolutely committed to driving sustainable tourism for the long-term future of the planet and understand that we have a great responsibility to balance our activities with the people working and living in the 100 countries in which we have a presence."
Held in four countries, the Sustainable Business Awards (SBA) are aimed at increasing awareness of sustainable business best-practices and demonstrating how sustainable business benefits companies, the environment and all stakeholders. The awards criteria include a quantitative assessment of companies' environmental impacts as well as their efforts to improve the wellbeing of the people under their employment, in their supply chain and in their local communities.