Ahead of US President Donald Trump's visit to Asia, Prime Minister Shinzo Abe is striking a hard line with North Korea by vowing to pressure Pyongyang more than he ever has in the past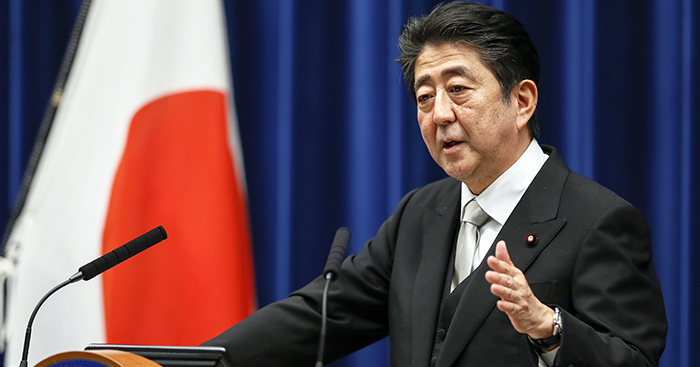 Japan's newly re-elected Prime Minister Shinzo Abe stressed his commitment of increasing the pressure to bring nuclear-equipped North Korea to the negotiating table on Wednesday.
"Dialogue for dialogue is meaningless," Abe said during a press conference in Tokyo. "We have to maximize pressure to create a situation in which North Korea calls for dialogue."
In the past year, Pyongyang has tested an unprecedented number of nuclear weapons and missile launches, two of which flew directly over Japan, that has led to an escalated sense of urgency within the international community about how to deal with the unpredictable nation.
"All of its ballistic missile and nuclear development programmes must be abolished in an irreversible and verifiable manner," Abe said.
The 63-year-old prime minister, who is only two years shy of becoming Japan's longest serving leader, used North Korea as one of the two main platforms that his Liberal Democratic Party (LDP) ran on to secure a two-thirds majority on the October 22 election.
Abe's re-commitment to take a tough line with North Korea is coming just days before a visit from US President Donald Trump – an open critic of the North's regime – as he will be kicking off his Asia tour in Japan this Sunday.
"I hope to set aside ample time to analyze with him North Korea's latest developments and discuss ways to respond, and make sure we cooperate even more closely toward an early resolution of the North Korean nuclear and missile problem," Abe said.
Both the US and Japan have imposed sanctions on North Korea and the UN Security Council recently added their own measures to stall the country from further testing of nuclear weapons.