More than two months after its first case emerged in the Chinese city of Wuhan, the novel strain of coronavirus now known as COVID-19 has killed more than 1,113 people in mainland China.

The World Health Organization (WHO) declared the outbreak on Jan. 30 to be a global health emergency. At that time, there were about 9,800 confirmed cases of viral infection worldwide. Now, at the time of this publishing on Feb. 12, the total number of confirmed cases has passed 44,650.

Browse our interactive map to see where infections have appeared so far.
What is coronavirus?
Coronavirus is an umbrella term to describe a group of viruses that can cause respiratory infections in humans. The SARS outbreak of 2003 was one strain of this virus. Much like that earlier virus, COVID-19 — previously known to medical researchers as 2019-nCoV, a utilitarian title that only signified "novel coronavirus" — is believed to have originated in China, in the hub city of Wuhan. Recorded infections surpassed in late January the official count of SARS infections in 2003, when that virus infected more than 8,000 people and killed 774.

According to the Centers of Disease Control, those who become infected by the virus from Wuhan experience acute symptoms like those of pnuemonia, including fever, cough, headache and running nose.
Where are people getting infected?
The outbreak of 2019-nCoV is now confirmed to have infected more than 44,650 people. The vast majority of those people are in China, where viral infections have been recorded across all regions. According to WHO, more than 393 COVID-19 cases have been recorded in 24 countries besides China.
On Tuesday, Feb. 11, WHO director-general Dr. Tedros Adhanom Ghebreyesus told gathered researchers, public health officials and journalists that a virus like COVID-19 can be "more powerful in creating political, economic and social upheaval than any terrorist attack."
"With 99 percent of cases in China, this remains very much an emergency for that country, but one that holds a very grave threat for the rest of the world," Dr. Tedros said.
Transmission of the virus has spread through globalized travel networks and may now spread between people who have never visited China. See our infections map above to learn more.
What is being done to stop this?
Chinese authorities have attempted to hold a quarantine and travel ban within Wuhan and several other neighboring cities. However, that lockdown has included more than 50 million residents, an unprecedented effort that critics say was an unrealistic measure to prevent the spread of the disease.

Outside China, national health agencies have turned to measures such as limiting international arrivals with visa controls or installing fever-spotting thermal cameras in airports. However, given the two-week or greater incubation period of the virus, in which a patient may be infected and not yet show any symptoms, those strategies are believed to have limited success. National governments are advising their citizens to avoid travel to China and, in some cases, have evacuated their citizens from the country.
What can I do to stay safe?
Health experts suggest preventive measures like frequent handwashing, wearing a facemask in dense public places and avoiding unnecessary travel, especially to China. The latest coronavirus is believed to have spread from animals to humans in a Wuha wet market, an environment common to much of Asia. WHO recommends special caution to avoid spoiled meat and stray animals when shopping in wet markets, as well as thorough hand washing after touching animal products. If you are feeling sick, limit your exposure to others. Researchers are still learning about this latest coronavirus and it's not yet clear precisely how dangerous it is to an average patient. So far, primarily older people or those with underlying medical conditions, have died.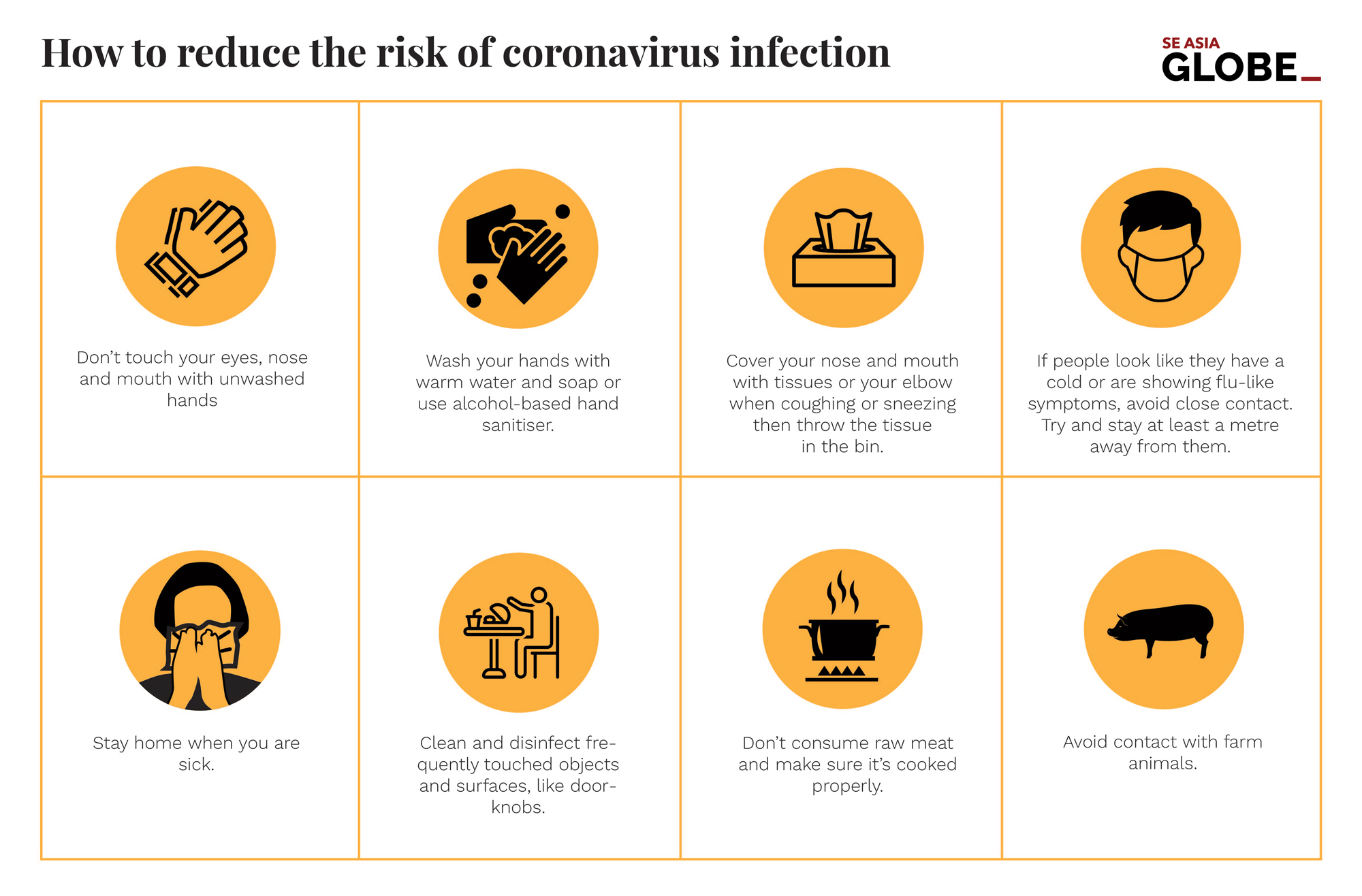 How can I track the spread of this disease?
Even with preventive action, new COVID-19 infections continue to rise. Our interactive map can be used as a reference to see where the virus has been found so far, but keep in mind this data is still changing rapidly. Misinformation is rampant about the virus, its causes, transmission patterns and effects, so double-check with trusted news sources or global public health officials to confirm any information you find on social media or hear from others.