Sponsored: Escape Cambodia's hottest season with a relaxing getaway to the lush jungles and coursing rivers at 4 Rivers Floating Lodge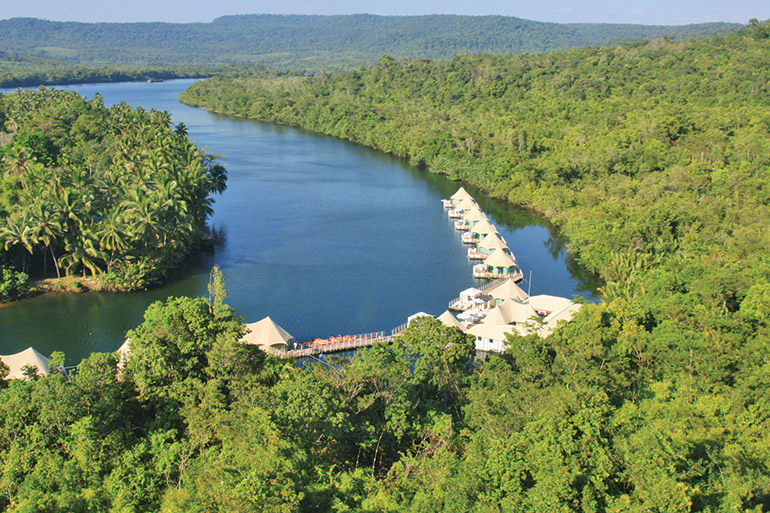 The long wooden slow-boat steers around an island on the Preat river and the white tents of the 4 Rivers Floating Lodge come into view, a luxury resort at one with the landscape, curving along a stretch where the lush mountains meet the water. You have arrived at tranquillity.
The boat glides aside the resort and you are greeted with a cold glass of iced tea as you take in the setting, a luxurious and eco-friendly resort in an untouched corner of the Cardamom mountains, home to some of the last remaining rain forests of their kind in Southeast Asia and one of most bio-diverse ecosystems on the planet.
The surrounding waterways and jungles are at once at your fingertips and undisturbed. It was during a journey along the rivers of Tatai – taking in the hornbills flying overhead, red snapper jumping out of the water and lush green mountains rising around us – that the couple who own 4 Rivers decided that this would be the perfect spot to build a "glamping" getaway.
The relationship between 4 Rivers and the ecosystems around the resort is at the centre of its mission. It's location at the heart of one of the world's great rain forests that makes the resort truly special, and there is a deep commitment to conserving it, making sure guests make a minimal impact on the environment while enjoying and exploring a place like no other.
After an excursion or paddle on the river, return to the resort and settle in for the evening as the river flows quietly under your feet. In the rainy months the water is fresh, flowing down from the mountains. When hot season arrives, the river changes course as salt water comes in from the Gulf of Thailand.
It's a cycle that's been going on for centuries in these rivers. Let it all take you away.
For 30% discount go to sea-globe.ecolodges.asia and enter Promo Code "SEA-GLOBE"