Cambodia's garment industry – one of the three fiscal pillars of its economy – is under threat from what is believed to be an organised crime syndicate stealing millions of dollars worth of clothes on the way to foreign buyers. It's a headache the beleaguered industry can do without.
"Previously we had a problem with people stealing from factories," says Kaing Monika, business development manager of the Garment Manufacturers Association in Cambodia (GMAC). "Now clothes are being stolen during transportation. We know this because some containers leave the factory full, but arrive in Europe or America either partially or half empty."
While he cannot put an exact figure on it, Monika estimates that the industry could be losing more than $2.5m since early 2008, according to the 10 manufacturers who have reported wholesale theft. In some instances, 30%-40% of the goods are missing, which amounts to $100,000 a container. Each container holds 600 to 2,000 cartons of clothing and weighs 6-8 tons.
Gladpeer Garment Factory says it has been hit four times and lost more than 5,000 items of clothing from about 300 cartons. In January, one of its containers left the factory full but arrived at its destination more than half empty.
While Monika doesn't know where along the supply chain the thefts occur, he is almost certain it happens in Cambodia. "How is it that this season's latest fashion appears in the Russian Market before Saks Fifth Avenue New York if they are not being stolen in this country?" he points out.
Cambodia is one of 50 countries on the European Union's "Everything But Arms" list, which allows the least-developed countries duty free access to the EU for everything except weapons and explosives. But there are strict rules. All shipments must have signed manifests, including what's called a "quantity survey report" that documents what and how much is in each container. Once the paperwork has been scrutinised against the items for export, a customs official and Camcontrol, the department for import-export control, approves and seals the containers.
"So we know what is leaving our factories," says Monika. "A lot of [the theft] seems to have coincided with times when the factory did not fully load the container, so goods are carried to the dry port to allow a transport company to include them with the products from other companies. Some of these cartons were lost or found empty.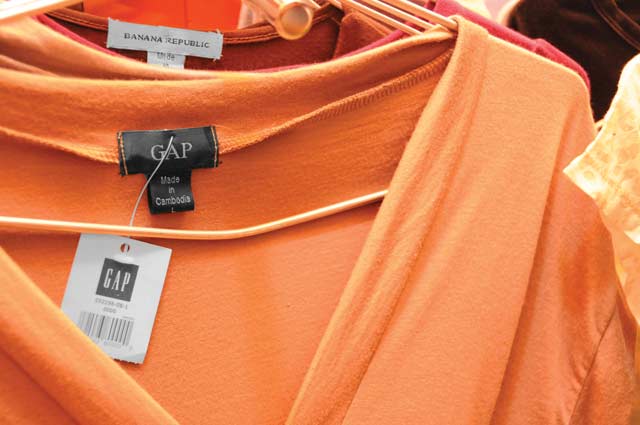 "We believe the thieves are operating somewhere along National Route 4, the 220km-long road from Phnom Penh to Sihanoukville." Along this road, trucks have been seen taking unusual routes, stopping for long periods and taking longer than expected to travel the four to five hours to the port. It is also believed the thefts happen at night time.
The thieves either steal the entire cartons inside the containers or take the clothes out and put the empty cartons back in the container. In one instance, 20 cartons went missing while another 800 were empty. "They don't want the content of the container to feel loose," says Monika.
In a report submitted to the police in March, the Wing Hang (Cambodia) Garment company said it packed 170 pieces of clothing in each of 117 cartons in a shipment last year. On arrival many cartons had only five to 10 items in them; in all, 8,446 clothes out of 14,951 had been stolen.
According to information received by the government-private sector forum from the Port Authority of Sihanoukville and buyers, the bills of lading and amounts delivered varied from 20% to 30%.
The most interesting aspect of the crime is that the containers arrive with their security seals intact, says Monika. "The thieves have found a way of opening the containers without leaving much of a trace. We have reason to believe they are removing the lock, including the seal, taking what they want and putting back the lock," he says adding that there have been similar cases in Vietnam. It is also a design fault in the containers. "This technique causes minimal damage to the container, which means it often goes unnoticed until it arrives at its destination."
As most voyages for container ships can last for up to 20 days, the perpetrators have close on three weeks to sell the goods before the crime is discovered on the other side of the world.
"There must be a syndicate to pull off this kind of job, including the truck driver, another driver for the second lorry and other handlers for 'unlocking' and resealing the doors," says Kevin Plenty, general manager of New Island Clothing, which had $80,000 worth of Marks & Spencer clothing stolen in its only incident to date.
Exacerbating the problem, many trucking companies in Cambodia are not registered and do not have insurance. "It is a hole in the supply chain," says a representative from an established freight forwarding company, who didn't want to be named. "It's more a matter of convenience than cost. Unregistered trucking companies are more flexible and can often be available at short notice."
Such convenience comes at a price, however. In one example the unregistered, family-run trucking company responsible for transporting brand-name clothes to Sihanoukville disappeared. "Generally, if nothing goes wrong people don't care if they are licenced or not. But when something goes wrong, people do care," the freight forwarding representative says. "If the trucking company has no insurance, they are responsible for the loss." Of the five times that particular company has been hit, all incidents happened in April and involved the same driver. The company has since increased its security at a cost of $100 per container. "When you are transporting 200 to 250 containers a month that figure of $200,000-plus becomes quite significant," he adds.
Factories such as New Island Clothing have insurance, so their only cost after a load is hijacked is repairing the damage to client confidence, which can cost millions of dollars in the short term and a total loss of business in the longer term.
Other factories split the loss with the buyer and some, such as Perusahaan Chan Choo Sing Sdn Bhd, which employs 8,000 people and is one of the largest Malaysian garment companies in Cambodia, absorbs the cost itself. "Our buyers have already suffered, we don't want to inconvenience them further," says Chuon Yik Thong, assistant general manager. It produces clothes for Adidas, Puma, Gap and United Colors of Benetton. "Even if you or an insurance company settles the bill, it still reflects poorly on Cambodia," says Thong.
Monika says the thefts may be an inside job. "After deciphering patterns [of the heists] and looking at what items are stolen and when, we think the criminals are targeting certain containers," he says. "They want valuable goods such as brand names. This is a highly organised operation. There could be more than one criminal gang."
It's a highly lucrative business, too, because the thieves can quickly shift brand names that could sell for $50-plus in Europe or North America for one-tenth of the price in the tens of thousands of markets in Cambodia, Laos, Vietnam and Thailand. "There have been reports of local retailers in the markets telling customers to come back the next day if the size they wanted wasn't available," says Monika.
Besides the financial losses, the consequences can be severe and far-reaching. "While it may happen in other countries, it doesn't happen on the scale we have seen in Cambodia in the past 18 months," says Monika. In addition to the damage it causes to Cambodia's reputation as a supplier of international standard clothing, it means that retailers have nothing to put on their shelves.
"A buyer may expect to distribute a new line of clothes to 20 outlets around the country. If the clothes don't turn up, the shelves sit empty, they lose customers and their brand suffers," he adds. "Secondly, it increases fear among buyers that their brand is not protected. If their latest line is being modelled and possibly copied in Cambodia three months before its launch in Europe, it becomes a violation of their intellectual property rights."
The biggest fear, though, is that buyers may turn against Cambodia. "The thieves are making customers who have traded with Cambodian factories for a long time hesitant about placing further orders. Many factories are faced with cancelled orders and are liable to fines. We are currently striving to survive and the most important thing is to ensure general employment for factory workers and the continued existence of these factories," wrote Cham Prasidh, minister of commerce in a letter several months ago to the general commissioner of the national police, imploring him to step up investigations.
Despite the government's concern and involvement, police efforts have so far proved to be ineffective. There have been no substantial leads and ultimately the only real beneficiaries have been the police, whose inquiries are largely financed by the victims of the crime.
Cambodia's troubled garment industry really doesn't need problems like this at a time when the global economic crisis is forcing them to lay off workers and close factories. Since January, 78 factories have closed and 30 more have suspended production, according to the country's Free Trade Union. A recent report by the United Nations Inter-Agency Project on Human Trafficking estimated that 60,000 Cambodian garment workers have lost their jobs in the past year.
"Cambodia is already struggling to compete with other source countries that are cheaper and more efficient," says Monika adding that the industry is responsible for about 90% of the country's exports. In the first half of the year the industry's export worth fell to $1.27 billion compared with $1.54 billion in the same period in 2008.
"We hope this scandal doesn't repel customers. We would like to see more results from the police investigations," says Monika. "It is not a difficult matter to resolve. We need it to be better prioritised and the culprits brought to justice."