Typically depicted as a man of humble origins, Joko Widodo is the first Indonesian president from outside the country's dynastic élites, a meteoric rise from middle-class furniture salesman to mayor to leader of the world's fourth biggest country.
Now though, with two of Widodo's heirs contesting local elections, Indonesia is wondering if the seemingly-unassuming second-term president, who is known by his nickname "Jokowi," is breaking his own political code by allowing or even overseeing the foundation of a Widodo dynasty.
Gibran Rakabuming Raka, the president's 32 year old son, is among the nominees for mayor of Surakarta, Widodo's hometown, while Bobby Nasution, Widodo's son-in-law, is running for the same job in Medan, the regional capital of North Sumatra province.
In late September, Gibran took the first step in his tilt at becoming mayor by registering with the Indonesian Democratic Party of Struggle (PDIP) in Surakarta, a city also known as Solo, in the province of Central Java.
The PDIP is the biggest party in Indonesia's parliament and counts Widodo among its members, though it is headed by Megawati Sukarnoputri, a former president of Indonesia.
In running in the 2020 regional elections, Gibran intends to emulate his father, who started his political career in Solo as mayor from 2005-12, a job that proved a springboard to national prominence.
Almost simultaneously, businessman Bobby Afif Nasution declared his intention to join the mayoral race in Medan, saying he had the president's backing.
"When I compete in the election, I can be elected or not. I can win or lose"

Gibran Rakabuming Raka, Widodo's son
The candidacies of both Gibran and Bobby prompted the Indonesian public and analysts to conclude that the president, who won re-election in April, is founding a new political dynasty.
Widodo's first-born, Gibran started his career by establishing a food-catering company known as Chilli Pari, after graduating from Sydney's UTS Insearch in 2010. Bobby is married to the president's daughter, Kahiyang Ayu, and known as a property and culinary businessman. Neither of the two has a background in political activism or government administration.
"Their instant nomination shows that the leadership regeneration process in the political party doesn't work properly. Family politics are shown here," Titi Anggraini, executive director of the Association of Elections and Democracy (Perludem) told Southeast Asia Globe. "This kind of phenomenon reduce democratic elections only to transactional politics that relies on the popular individual who in turn gives them electoral benefit or electoral incentives".
At the time of Gibran's registration, the PDIP's local board in Solo had already closed its mayoral nomination process and listed senior local politicians Achmad Purnomo and Teguh Prakosa as candidates. Gibran, however, met PDIP chairwoman Megawati to express his determination to run for mayor. He has so far rejected options outside the PDIP, such as being nominated by another political party or running independently.
Perhaps as a way of encourage Gibran to assert independence from his dad, Megawati asked him to read books about her own father, Sukarno, Indonesia's independence hero.
"Books including Under the Revolutional Flag and other titles. It is actually a code for Gibran to show himself as a person, not as the son of Jokowi," political observer Hendri Satrio explained to media in Jakarta.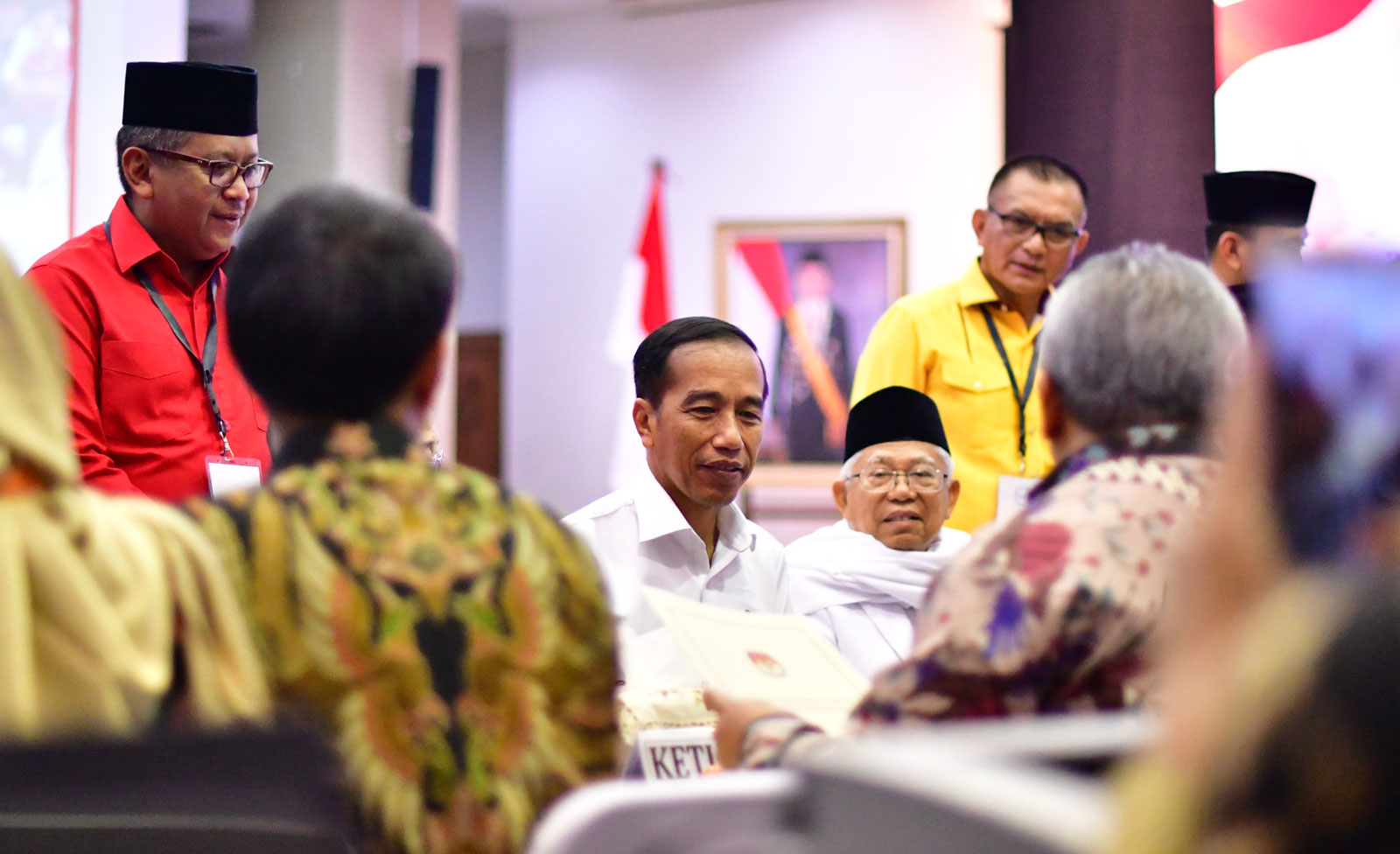 On the other hand, Bobby Nasution has been forming ties with other political parties in Medan, as seen in his visit to the National Democratic party office in North Sumatra and his receipt of support from the Golkar Party in the region.
"Everyone has the right to nominate himself or to be nominated, but it would be very good if we respect the process," said Mardani Ali Sera, a parliamentarian from opposition Prosperous Justice Party, speaking to the media after a seminar at The Indonesian Institute, a Jakarta-based research organisation. He elaborated that what he meant by "process" is pursuing a political career "from the bottom up".
Gibran, too, might like to think he is starting from the bottom, dismissing the notion that his family is starting a political dynasty. "People might say that [this is] political dynasty. [When] I compete in the election, I can be elected or not. I can win or lose. If this is a political dynasty, I can ask [my father] to be minister or anything, that's enough," he told media in Jakarta.
Gibran explained that his decision to join the mayoral race had been reached only after lengthy consideration and that he had to overcome self-doubt. "I realise as youth, we need to change the mindset that politics is always dirty. This is the moment, where youth should proactive, not the passive one".
However Gibran quickly spoke of his impatience to follow his dad and kickstart his own political career. "Why don't I wait until my father finish his presidency? [It's] too long. [I] want it now," he said.
Gibran – who has expanded his business, from catering to pancakes and mobile apps, over the past five years – said that he could reach more people through public office than via commerce.
"If I become businessman only, I can employ hundred staff, creating tremendous livelihood. If I want to contribute more, I need to go into politics and I can touch at least 600,000 Solo citizens' lives," Gibran argued.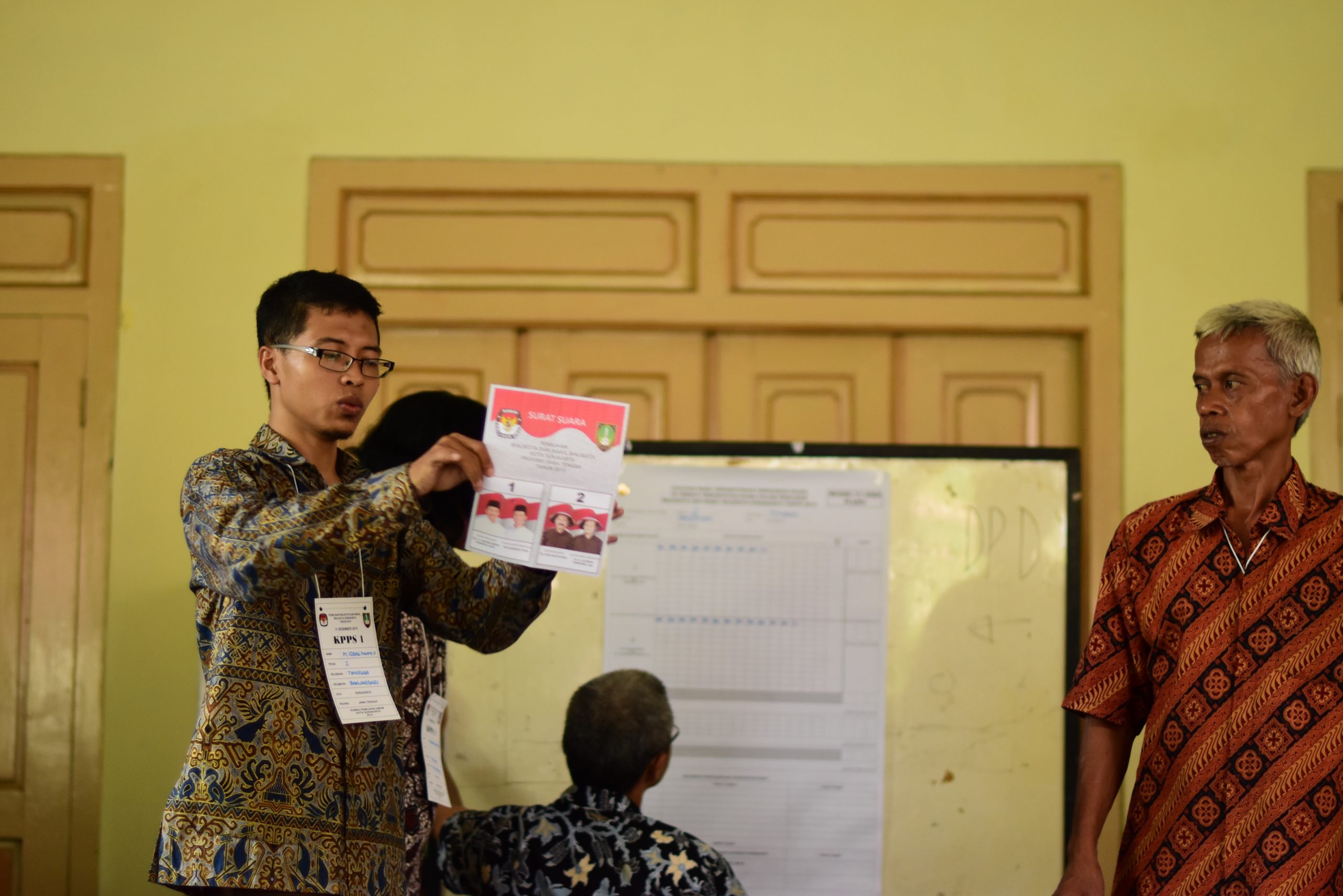 His arguments fall short, however, according to Titi Anggraini, who described Gibran's last-minute registration as insulting the democratic process. "Denying that it is a political dynasty by comparing [it] with asking for a ministerial position is insulting our common sense," she said.
"Selection of executive office from political party nomination should be done democratically and openly, as stipulated in the Law on Political Party and Election. Political parties also bear responsibility to give public political education, access to information and effective recruitment methods," Anggraini explained.
"This kind of phenomenon reduce[s] democratic elections to transactional politics"

Titi Anggraini, Perludem
Indonesia has a long history of prominent political dynasties at national and subnational levels. The daughters of the founding father of the republic, Sukarno, have for decades been centre-stage in the country's politics, with Megawati Sukarnoputri regarded as the matriarch of the PDIP.
Sukarno's other daughters, Rachmawati and Sukmawati, are also prominent in public life, while Megawati's daughter, 46-year-old Puan Maharani, is now House Speaker and was a minister during Widodo's first 2014-19 term as president.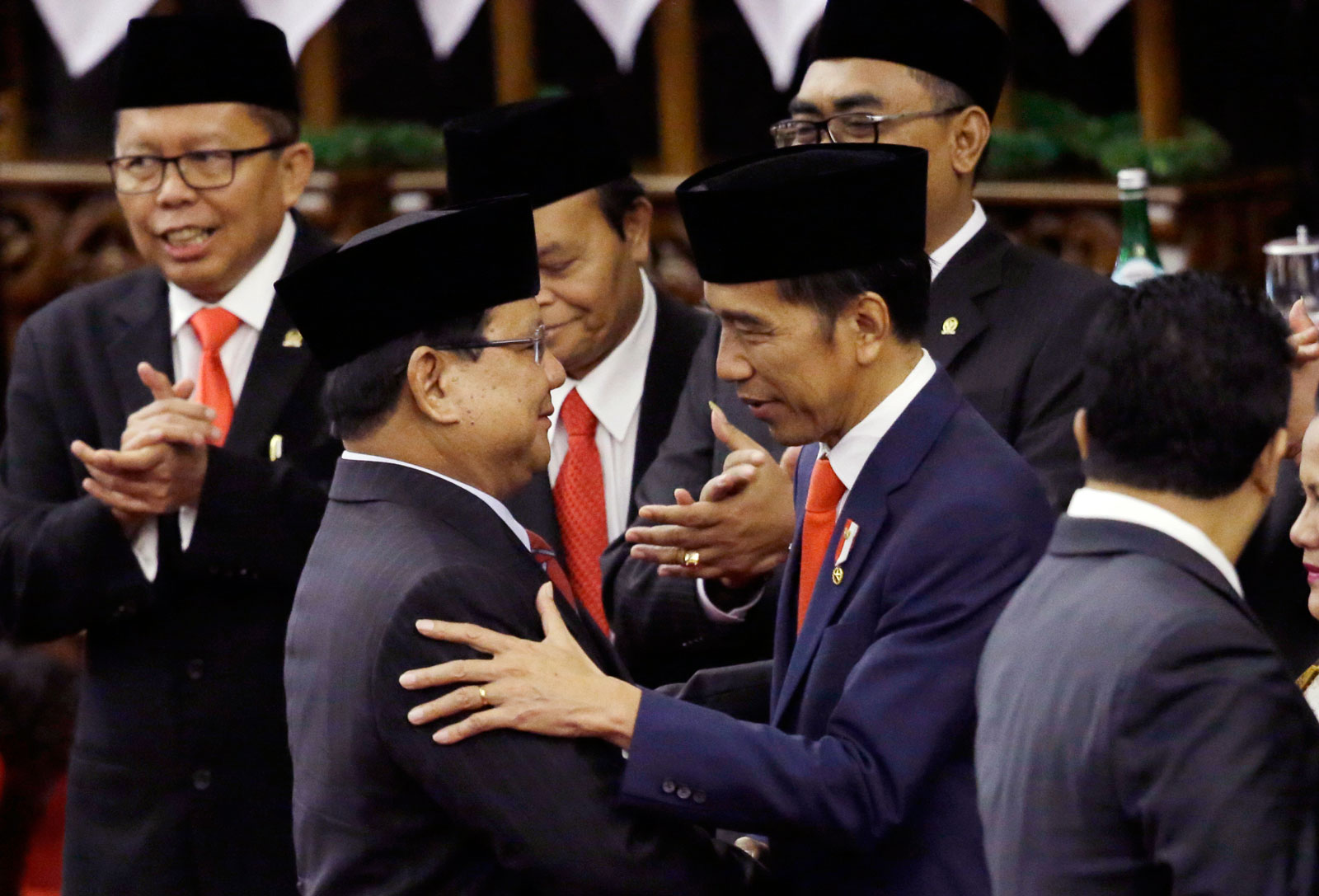 Suharto made his sons and daughters chairs of various government-related businesses during his three-decade régime. The Suharto offspring are now re-emerging into national politics through Partai Garuda, led by the former dictator's wealthy businessman son, Hutomo Mandala Putra, better known as Tommy Suharto. 
Prabowo Subianto, Widodo's two-time rival for the presidency, and his newly-minted defence minister, is also from a prominent political-business family, and, for a time, was married to one of Suharto's daughters.
Widodo's predecessor as president, Susilo Bambang Yudhoyono, known to all as SBY, seems to be grooming eldest son Agus Harimurti Yudhoyono for top-level politics. A former soldier – like his dad – Agus fell at the first hurdle in the 2017 Jakarta gubernatorial elections. Another son, Edhie Baskoro Yudhoyono, is a politician in Yudhoyono's Democratic Party and has represented East Java in parliament since 2009.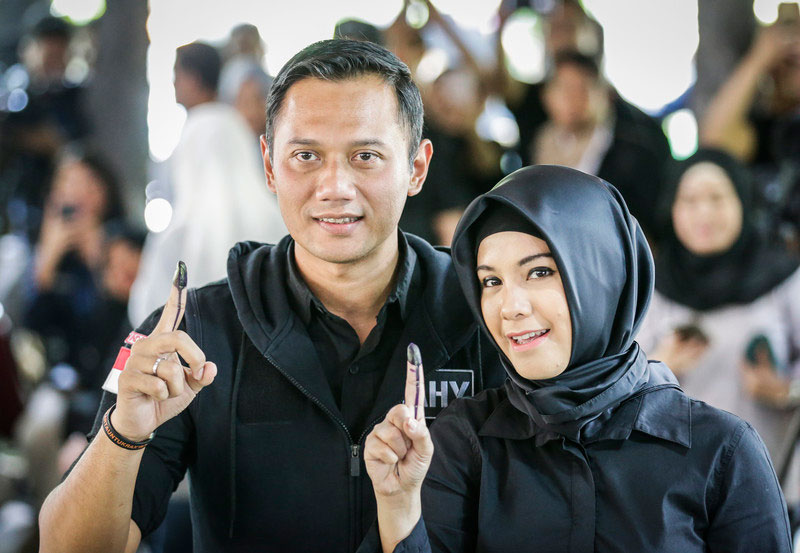 Agus Yudhoyono and wife Annisa Pohan after voting in Jakarta during February 2017 gubernatorial elections. Photo: EPA/Mast Irham
Dynasties are also seen at sub-national level, where local springboards can enable political families to leap to national prominence, such as the Yasin Limpo family in South Sulawesi. Members of the Yasin Limpo have held political positions at local and provincial levels, preludes to patriarch and former regional governor Syahrul Yasin Limpo being named agriculture minister in Widodo's new cabinet, announced a month ago.
But local dynasties are often corrupt – with the most notorious arguably that of Ratu Atut Chosiyah, a former governor of Banten province in the west of Java, whose family has a strong grip on local politics even though Ratu is currently in jail for bribery, while her brother, businessman Tubagus Chaeri Wardanam was convicted of graft. 
Tens of Atut's relatives, including children, siblings and in-laws, have held positions in Banten's executive and legislature. The jail terms for Atut and Tubagus have not dented the family's electability, it seems. Atut's first son, Andika Hazrumy, is now Vice Governor of Banten and was previously a Golkar parliamentarian. Andiara Aprilia, Atut's second daughter is a Banten senator and sister-in-law Airin Rahmi Diany is South Tangerang mayor, while Ratu Tatu Chasanah, Atut's younger sister, is regent in Serang, also part of Banten province.            
Not all of Indonesia's presidents or ex-presidents have pushed their scions into politics, however. The late BJ Habibie, who succeeded Suharto as president, has two sons – one an engineer and the other in the civil service – but neither are politically-active. It is a similar story with Habibie's successor, Abdurrahman Wahid, also known as Gus Dur. Four of his daughters head various civil society organisations, rather than political parties, though the eldest, Yenny Zanuba Wahid, is a household name, having chaired the National Awakening Party as well as co-founding the short-lived New Indonesia National Awakening Party. 
The prominence of major families in Indonesian politics has led to comparisons with other major democracies, notably the US, with its Kennedy, Bush and Clinton dynasties and the prominence of first daughter Ivanka Trump and husband Jared Kushner in President Donald Trump's administration.
That said, Perludem's Anggraini sees notable differences between the US and Indonesia. 
"If we look at the Clintons, Hillary for example. She has her own political career, a political stance of her own, even before being a First Lady. On the other hand, Gibran joined PDIP just recently. He hasn't been interacted with the party's values and mission or participated in the party's cadre program. We need to question political party governance at this stage".
The mandate of reform is to abolish nepotism. It would be very good public education if we teach our children or our family to start something from the beginning

Mardani Ali Sera, opposition MP
Indonesia scholars such as Gerry van Klinken and Henk Schulte Nordholt describe the country as a "patronage democracy", where interpersonal networks predominate at the expense of initiative and getting results.  
Although the political party system in Indonesia is perceived to be quite robust, Edward Aspinall and Ward Berenschot found in researching their new book, Democracy For Sale, that candidates rely on informal personal networks rather than party machines or formal structures.
This informal politics goes parallel with the formal one, creating what seems to be a "shadow state", that handles issues from security to natural resources to land disputes.   
Analyst Ken Ward pointed out that the prevalence of political dynasties in Indonesia is down to two reasons – namely family trust and the inseparability of politics and business. This was seen in the 2014 Democrat Party convention, where, although the winner was Dahlan Iskan, the party in the end ran Hatta Rajasa, father-in-law of the then-president Yudhoyono's son, as its vice-presidential candidate. And with politics seen as a way to financial enrichment in Indonesia, the perceived need for trust is amplified, resulting in greater dependence on family ties.
In some countries, political dynasties are banned by law. The most explicit prohibition on political dynasties in Southeast Asia is found in the Philippine Constitution, which stipulates that the state "shall guarantee equal access to opportunities for public service, and prohibit political dynasties as may be defined by law".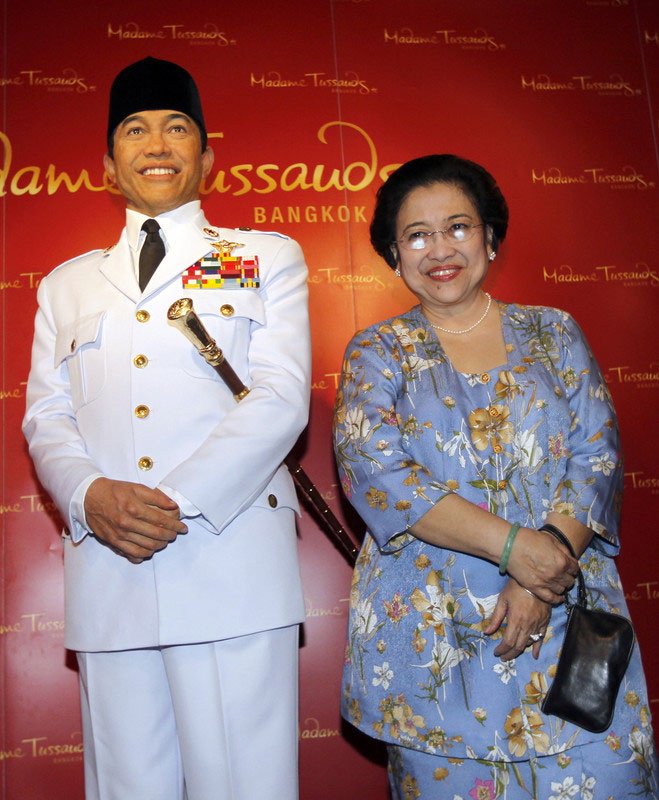 Philippines Senate Minority Leader Franklin Drilon recently proposed banning a politician's spouse, or the relatives of an incumbent official seeking re-election, to hold or run for any public electoral position in the same area for the same election period. Referring to studies, Drilon argued that limiting political dynasties will help eradicate poverty .
In Indonesia, the law to ban political dynasties from participating local elections was stipulated in the Regional Elections Law of 2015. The law was later amended by Constitutional Court judges, who erased the word "political dynasty" while emphasising that the candidate should not have "conflict of interest with the incumbent" – terminology further refined as "not having bloodline or marriage-line, which include the father, mother, in-laws, uncle, aunt, siblings, children, except has going over one period in office". 
In the Philippines, however, political dynasties have long dominated politics, regardless of the country's laws. Similarly, according to researchers Yoes Kenawas and Junioys Trajano, neither anti-dynasty legislation nor the enhancement of the political party system will serve as a silver bullet to the proliferation of political clans in Indonesia. Voters should also scrutinise the platforms and track records of candidates rather than their family names, the authors contend, adding that changing the mindset of the electorate will be the final step in reform. 
However the sight of the House Widodo, by now a name with an inherent brand quality all of its own, sending two of its members on the same political journey undertaken by dozens of other political families, has many people wondering if Indonesia can become a merit-based society where inequality can be addressed and inclusivity promoted, in the spirit of the reformasi protests of 1998 that resulted in the downfall of Suharto and the establishment of democracy. Those protestors sought an end to corruption, collusion and nepotism, with the 2014 election of Widodo seen by many as the fruit of those reform demands – the rise of a political outsider without any previous ties to the power elites.
"The mandate of reform is to abolish nepotism. It would be very good public education if we teach our children or our family to start something from the beginning, up to the top. It would be healthier. Good for everyone," said Mardani Ali Sera, a parliamentarian from opposition Prosperous Justice Party.
Observer Hendri Satrio predicted that Gibran can have a promising political career if he displays a maturity that is perhaps beyond his relatively-young age. "Gibran is one of the Indonesian youths who I think will have a brilliant political career," he said. But, Satrio concluded, "what the public wants to see this time is the process, not [him] suddenly becoming a mayor because he is the son of President Jokowi".