Focus Asean examines key green technology fields that may play a part in the region's future


Green architecture
As Southeast Asia undergoes rapid urbanisation, the question of how cities develop is going to be a primary concern for environmentalists. Thankfully, Southeast Asia is excelling in the business of green architecture.
Also known as sustainable architecture, green architecture seeks to minimise the environmental impact of buildings through the use of ecologically-friendly materials, and the conservation of energy and space.
Singapore has long been the forerunner in green architecture in the region. A report by CBRE last year described the city-state's green credentials as such: "Singapore  impresses  not  just  by  the  pace  of  green  building  adoption,  or  the  sheer  numbers  of  green buildings it now boasts, but also by the industry-leading technologies and practices being employed in the market."
Other nations in the region, including Vietnam, Thailand and Malaysia, have also shown more than enough mettle in their own developments.
Indeed, most countries in the region have already developed their own green architectural standards, which state what qualities a building must have to be described as such.
Singapore has the 'Singapore Green Building Council Certification', Malaysia has the 'Green Building Index' and Thailand's is called the 'Rating of Energy and Environmental Sustainability'.
The study of green architecture at Southeast Asian universities has also increased significantly.
Solar power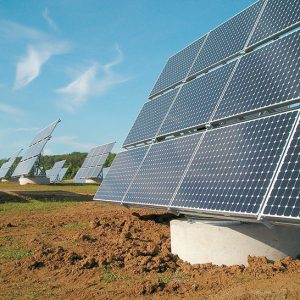 The solar power industry is a developing at a heady pace in the region. According to the International Renewable Energy Agency, the global installed capacity of solar projects grew from 22 to 135 gigawatts between 2009 and 2013.
Although much of this growth was concentrated in China, India, Japan and Australia, the expansion of solar capabilities in Southeast Asia was far from insignificant.
In Asia-Pacific, during the same period, it grew by more than ten times, from 3.5 to 36 gigawatts.
Investment in solar projects in Southeast Asia increased at an annual growth rate of 8% between 2010 and 2014, according to a report by Clean Energy Pipeline released this year. The report also found that in 2014, $1.83 billion was invested in such projects in the region, with Thailand and the Philippines claiming 55% and 22% of that respectively. Indeed, the desire for renewable energy is strong in the region. The Philippines wants half of all its electricity to come from renewables by 2030, while Thailand wants a quarter of its energy to come from clean sources by 2022.
In June, Gregorio Araneta Inc, a Filipino real estate firm, announced that they intend to build what has been called the largest solar farm in Southeast Asia. The 100-megawatt development in Cadiz City is expected to cost more than $170 million and will begin supplying energy to the national grid by the end of next year.
Also in June, Singapore's Housing and Development Board (HDB) issued the city-state's largest solar power tender – the first under the so-called SolarNova programme – that aims to have solar power contributing 350MW to Singapore's power grid by 2020.   
Carbon capturing
Carbon capture and storage (CCS) is a technology that allows for up to 90% of carbon dioxide (CO2) emissions, pro-duced by burning fossil fuels in electricity generation and industrial processes, to be taken and stored before they enter the atmosphere. It works by capturing CO2 and then depositing it where it cannot reenter the atmosphere, more often than not below the ground.
According to the World Energy Outlook 2011, published by the International Energy Agency, the CCS technology that exists today has the ability to deliver 3.5 gigatons of greenhouse gas reduction by 2035. This is almost 22% of the global requirement to limit the earth's temperature increase to 2˚C. But as natural gas production and power generation continues to grow across the world, especially in Southeast Asia, an increase of CCS technology may become necessary to offset emissions.
"Much of the CCS effort to date has been limited to developed countries. To emerge as a meaningful part of the global GHG emissions abatement strategy, CCS must be deployed in developing countries where some of the highest growth in energy use and emissions are likely to occur," read a 2013 report by the Asian Development Bank, titled Prospects for Carbon Capture and Storage in Southeast Asia.
The report, which focused on four countries – Indonesia, the Philippines, Thailand and Vietnam – found that while all four were aware of their own increasing greenhouse gas emissions, only Indonesia has formally recognised CCS as a prospective technology. It stated: "In Indonesia… South Sumatra [possesses] several attributes well suited to CCS – abundant large CO2 point sources, opportunities for storage, and existing oil and gas infrastructure – and that South Sumatra could serve as a region of focus for CCS."
However, CCS technology is still in its infancy and, according to some, is failing to take off. An article in the Washington Post  in 2013 claimed that, since 2008, $25 billion has been provided by governments across the world to fund large-scale demonstration projects, but "we have remarkably little to show for it so far".
In fact, last year the Global Carbon Capture and Storage Institute estimated that there were only 22 schemes around the world in operation with another 32 in development – the majority in North America. However, a bright star is China. It is planning to double its budget for carbon-capture projects and, according to a report by Bloomberg, is hoping to attract some $380 million in investment over the next five years. Perhaps Southeast Asia will be in a perfect position to learn from China's efforts.
Keep reading:
"Great leap forward: energy 4.0" – With energy usage a key concern for many businesses, Focus Asean talks to economist Yanfei Li about Southeast Asia's potential to leapfrog into a new era called 'Energy 4.0'