The International Foundation programme now offered at the College of Higher Education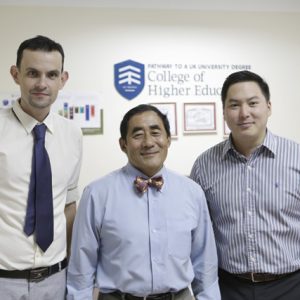 The College of Higher Education is now in partnership with EdHat International, a UK organisation providing quality academic qualifications for international students outside the UK. CHe will be starting the edHat International Foundation Programme (IFP) at the end of June.
Who is the international Foundation programme for?
CHE wants to give opportunities to students to study their Bachelor degree in the UK or Australia. The IFP will open doors for those students who do not possess university required qualifications with GCE O/ level or equivalent qualifications, making them eligible to enter an undergraduate programme.
What Universities are you partnered with?
Because of our partnership with EdHat International, students who successfully complete the IFP)will be given the opportunity to study at the University of Wolverhampton, New Bucks University in the UK and Charles Sturt University in Australia.
Can you tell us more about the programme?
CHE will be offering EdHat International Foundation Diploma in Business management (IFD) level 3. The programme will last ten to 12 months and will be taught in English. The admission criteria are that all candidates should be fluent in English and have 12 years high school education.
Will this Diploma allow me to study in any universities in The UK or Australia?
Yes! The IFP is an internationally recognised diploma which will allow access to any undergraduate programme in universities that are in partnership with us.
What other courses does CHE Offer?
CHE also offers four levels in Cambridge English Business Benchmark series and courses to high school students (IGCSE).