Inside Jakarta's hottest new art show
Indonesia's contemporary art scene is widely heralded as the region's most exciting, but it needs outside patronage if it is to compete on the world stage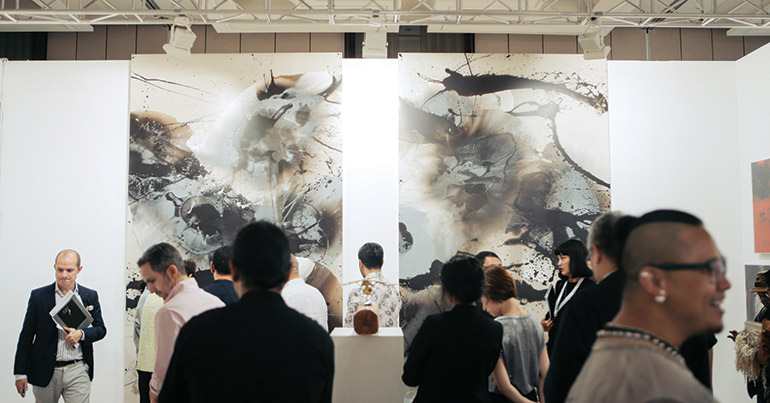 Indonesia's contemporary art scene is widely heralded as the region's most exciting, but it needs outside patronage if it is to compete on the world stage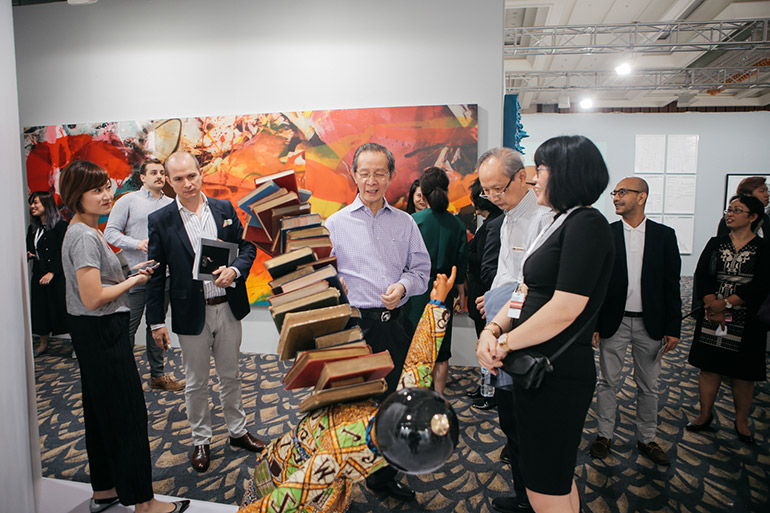 An Indonesian affair
As Enin Supriyanto, bespectacled and engaging, makes a point about Indonesian contemporary art, an audiovisual installation provides an unusual backing track to his comments. Supriyanto is standing in the middle of Expose, an exhibition he curated for the inaugural edition of Art Stage Jakarta. A collection of artworks owned by some of Indonesia's most prominent collectors, the show provides a glimpse of the tastes of the wealthy, with each piece chosen to reflect their wider collections – from "data.tron", the installation by Japanese artist Ryoji Ikeda, which is owned by Wiyu Wahono, to a piece from Deddy Kusuma's private hoard – Indonesian contemporary master Nyoman Masriadi's "Serta Merta".
Ikeda's piece is one of the few representations of international artists here. Like much of the art on display at Art Stage Jakarta, Expose is, fittingly, an overwhelmingly Indonesian affair. Homegrown collectors have long been a major driving force in the country's flourishing art scene, with many of them snapping up the works of local artists decades before foreign collectors showed any interest.
"The local collectors are also exceptionally passionate and active in promoting artists and art that they are interested in," says Pearl Lam, founder of eponymous galleries in Hong Kong, Shanghai and Singapore. This has manifested itself in several ways, including Kusuma's sponsorship of 20 Indonesian artists to exhibit their work at Art Paris in 2010 – a move Art Stage founder Lorenzo Rudolf credits with sparking increasing overseas interest in Indonesian art. Rudy Akili, who also loaned works to Expose, opened his sprawling Akili Museum of Art in Jakarta ten years ago to showcase the country's contemporary artists; it is free for the public to visit by appointment. It is one of a number of private museums dotted around the country, and several collectors are also banding together to open the country's first international modern and contemporary art museum in the capital by late 2017. "They really invest a lot in maintaining, in preserving, in looking after their collections," says Supriyanto.
The curator also paid tribute to Indonesia's most famous collector, Sukarno, the country's first president, who held office from 1945 to 1967, by including books showcasing his collections in the exhibition. A noted patron of the arts, Sukarno cultivated a wide appreciation of the fledgling country's diverse art and culture through his own example.
"Even before he was president, he knew the artists personally and already start[ed] collecting, and not only endorsing that first generation of Indonesian artists by supporting them [by] buying their artworks, but also endorsing them in
a much more productive way in the sense that he encouraged these young artists [by saying]: 'Yes, you all are important in the process of building this Indonesia,'" says Supriyanto. "It's somehow embedded in the narrative of Indonesia as a new nation, from the beginning. And that narrative somehow submerged into this general consciousness and then embodied into some collectors."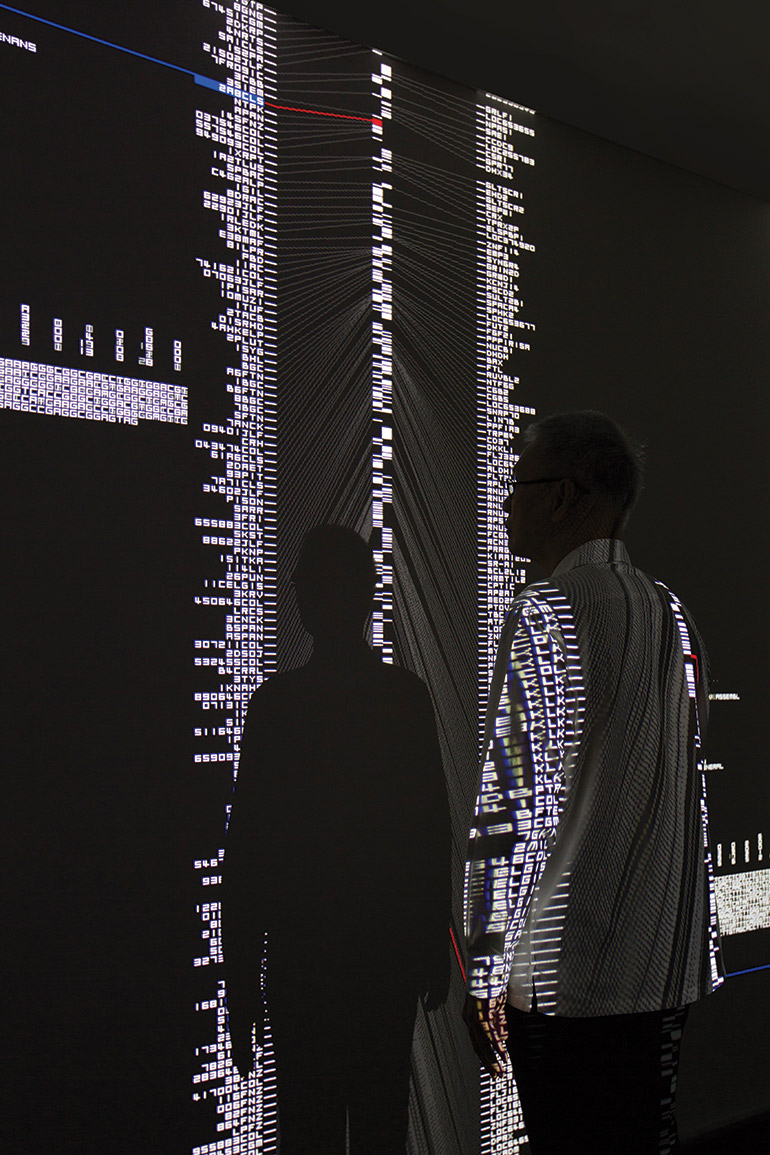 A need for support
Nevertheless, part of the reason collectors have become so prominent in the art scene is a lack of official infrastructure for the arts, along with government disinterest in acquiring modern and contemporary works – leaving a void that has been filled by commercial galleries and private collectors. The government has long prioritised the promotion of traditional arts over the contemporary, leaving edgy new talent sidelined.
At a forum hosted by Art Stage Jakarta, the education and culture ministry's general director for cultural affairs, Hilmar Farid, and the Office for Indonesian Creative Economy chief, Triawan Munaf, were due to discuss the government's strategic policies for the development of contemporary art. Instead, they sent apologies and lower-level employees in their place, who then had to field some hard questions from audience members. Art lover Adila Suwarmo, who was unyielding in her questioning of the officials, says there is a clear absence of institutional support for contemporary art: "There's no big thinking, no big picture, no big people who say this is for Indonesia. That's our biggest obstacle."
Gatot Pujiarto, an artist based in Malang, a city in East Java, who is represented by Pearl Lam Galleries, said he has never received support from the government, but regularly turns to fellow artists in the city. "I have a few artist friends in Malang, and we all support one another by visiting each other's exhibitions and holding informal forums to share and discuss the works, the latest art information and the progress of contemporary art," he said. Pujiarto sees the need for an overhaul of the government's approach to contemporary art, including the addition of new art infrastructure, the development of a structured relationship between the government, artists and galleries, and the improvement of exhibition programmes and study opportunities for emerging artists.
"By far the biggest art scene and art market"
Nonetheless, the country's contemporary art scene has still been able to grow organically to become a major regional force, according to Rudolf. "Indonesia is, without any doubt, in the entire Southeast Asia, by far the biggest art scene and art market. I would even say in [all of] Asia it is, behind China, the biggest art scene and art market," said the Art Stage founder. "Something is really unique here. Art, and contemporary art, has a real standing in society. And that is unique. And that makes it really so strong."
Art has long held an important place in Indonesian culture, with artistic traditions stretching back centuries. The diverse nature of the archipelago, comprised of 17,000 islands with 300 ethnic groups, not to mention the presence of all the major religions, has made it a fertile ground for artistic expression. While the production of traditional textiles, carvings and ornaments has a long history and remains strong, it has – following the censorship and oppression of the Suharto years – in high art circles given way to a focus on a generation of artists exploring political and social issues and challenging the status quo.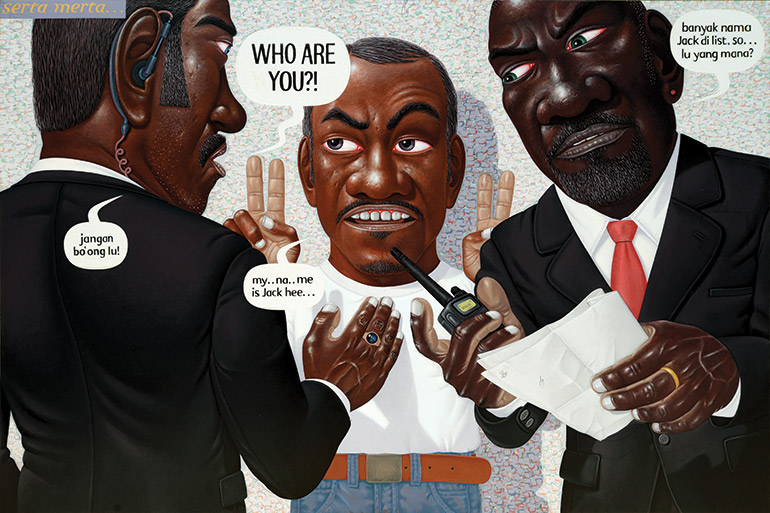 "The people of Indonesia are incredibly connected with their own history and culture, which inspires the work of a lot of local artists," said Lam. "I like that Indonesian art makes me think and makes me curious to find out more about the country."
Yet despite many local collectors buying Indonesian art – Kusuma, for example, said that 60% of his collection is from Indonesia – contemporary art still has some way to go to gain serious traction outside the region. Kusuma recounts his attempts to convince major US museums to display Indonesian art. "One big museum [representative] said: 'I have 50 [people in my] team of curators, but no one has studied Indonesian art yet,'" Kusuma said, adding that he was told there was insufficient information available on Indonesian art, preventing the study of it – a response he characterised as "discrimination".
In recent years, however, Indonesia's contemporary art has slowly begun gaining greater recognition overseas with an increasing number of shows being held at key art spaces abroad. Rudolf now sees an opportunity for it to grow further, by using Art Stage to place Jakarta on the map as the premier "art city" in Southeast Asia and provide a global launch platform for more local artists. "Indonesia needs international platforms. Indonesia needs an international infrastructure," he said. "And we want to support Indonesia."
---
Be a Part of the Story
---
Southeast Asia Globe is powered by members.

Membership programs will be available soon. Until then, sign up for our weekly summary of stories from the region.
Donate and support independent journalism.

Donations help us keep our journalism free and independent. Support stories from Southeast Asia that matter.
---
---
Read more articles